Super League
FMLLP ink partnership with world's best league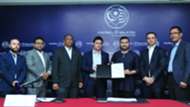 Football Malaysia Limited Liability Partnership (FMLLP) today signed a Memorandum of Understanding (MoU) with their Spanish counterpart, La Liga that will see a three-year working partnership to help to develop a 50-years blueprint for the Malaysian league as one of the first activity.
The MoU was signed between HRH Tunku Ismail Sultan Ibrahim, the chairman of FMLLP who is also the current president of Football Association of Malaysia (FAM) and Ivan Codina, the managing director of La Liga in Southeast Asia, Australia, Japan and South Korea.
Malaysia becomes the first country in Southeast Asia to ink such partnership with La Liga, second in Asia to do so after Japan. There will be seminars and workshops held to focus on the management of sports, financials, stadium security as well as social development through community projects.
Through this MoU, La Liga will also be helping any player from their league that wishes to play in Malaysia, on top of pre-season matches for La Liga team in Malaysia. There are also plans to integrate Malaysian players in Spain.
"I'm very happy with the collaboration. We are able to work together in developing all aspects of football in the long term. We are still a very young organisation, so we need to learn from those who are experienced and La Liga represents the best candidate for this collaboration."
"I won't hold the position forever and it is my sincerest wish to develop the local football so that whoever is the future FAM president or FMLLP chairman can be helped by this blueprint," said Tunku Ismail after the signing ceremony.
FAM had previously sent a delegation team to Spain at the end of last year to look at how La Liga is run, as well as visiting clubs to see the inner workings of clubs that recognised the world over.
In return, La Liga have also moved to place a permanet liaison based in Malaysia that will work closely with FMLLP as well as all the clubs involved in the local competitions.