U17 World Cup
U17 World Cup: FIFA could shift matches from Kochi, says State Govt.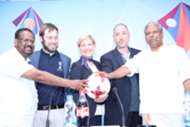 The Kerala Government has explained to the High Court of Kerala that it demanded that the shops in Kochi's Jawaharlal Nehru international stadium be closed temporarily on safety grounds and the city could lose the chance to host the FIFA U17 World Cup games, if the stadium is not handed over to FIFA in time. 
The state government had to come up with an explanation after the shop owners in the stadium, one of the six venues for the prestigious FIFA U17 World Cup to be held in October this year, approached the court after the Greater Cochin Developmental Authority (GCDA) sent them a directive asking them to vacate their shop premises between September 15th and October 25th. 
The court observed that while the FIFA U17 World Cup was important, the livelihood of the shop owners should also be protected and wondered why a committee was not appointed to look into their plight and ensure their source of income is protected. 
The Govt. went on to explain that Kochi would lose the chance to host such a global event if they did not adhere to FIFA's guidelines on safety and such an issue would hamper the chances of the city hosting a future event of this magnitude as well. 
The Govt. went on to further state that since the stadium was built using public funds for international sporting events, it cannot put a few personal interests over the collective interest of the state and its sports aficionados.
With close to 50000 people set to attend the event, the district administration has to ensure the safety of the public and with these shops having live power connections and inflammable materials like cooking gas, it was unsafe for them to be operating while such an important event takes place, argued C S Sreekala, Dy. Secretary, Department of Local Self Government in the court. 
FIFA have been very strict about the local organizers' adherence to their guidelines so far and a worst case scenario could see a shift in venue. 
Kochi is scheduled to host a total of eight matches, including the opening day group game on October 7 between Brazil and Spain, the tickets for which have been sold out. FIFA are set to take over the stadium on September 20.
Another statement from the High Court is expected on Saturday.