India U17
2017 U-17 World Cup: India skipper Amarjit Singh among the youngest in the squad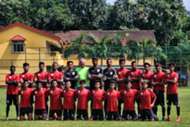 The India U-17 side will be embarking on a historic journey on October 6th when they take on USA in their first ever FIFA World Cup match at the Jawaharlal Nehru stadium, New Delhi. Hosts India are placed in Group A alongside USA, Colombia and Ghana.
Led by captain Amarjit Singh Kiyam, the 21-member Indian side will be the first ever football team from India to take part in a FIFA World Cup at any level. Portuguese coach Luis Norton de Matos, after seven months of rigorous monitoring and hard work, has selected the best possible squad for the grand tournament.
Midfielder Nongdamba Naorem is the oldest player in the current Indian side whose age is 17 years and 9 months followed by Boris Singh, Abhijit Sarkar and Indian origin goalkeeper Sunny Dhaliwal.
The skipper Amarjit Singh is among the youngest players in the team. He is 16 years nine months old. Ninthoinganba Meetei, who was born on 13th July 2001, is the youngest player of the lot.
Here are the ages of the 21-member Indian squad for the upcoming FIFA U-17 World Cup. (List in descending order).
Nongdamba Naorem – 17 years (2/1/2000)
Boris Singh – 17 years (3/1/2000)
Abhijit Sarkar – 17 years (5/1/2000)
Sunny Dhaliwal – 17 years (30/1/2000)
Rahul Kannoly Praveen – 17 years (16/3/2000)
Rahim Ali – 17 years (21/4/2000)
Dheeraj Singh – 17 years (4/7/2000)
Hendry Antonay – 17 years (22/5/2000)
Namit Deshpande – 17 years (9/6/2000)
Aniket Jadhav – 17 years (1/7/2000)
Suresh Singh – 17 years (7/8/2000)
Anwar Ali – 17 years (28/8/2000)
Komal Thatal – 17 years (18/9/2000)
Md. Shahjahan – 17 years (3/10/2000)
Lalengmawia – 17 years (17/10/2000)
Prabhsukhan Gill – 16 years (2/1/2001)
Amarjit Singh Kiyam – 16 years (6/1/2001)
Sanjeev Stalin – 16 years (17/1/2001)
Jitendra Singh – 16 years (13/6/2001)
Jeakson Singh – 16 years (21/6/2001)
Ninthoinganba Meetei – 16 years (13/7/2001)