Spain
'Few are more qualified than Fernando' - Ramos backs Hierro after shock Spain decision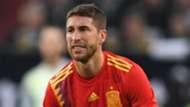 Spain captain Sergio Ramos believes Fernando Hierro is the right man to lead them into the World Cup after the shock sacking of Julen Lopetegui. 
Lopetegui was relieved of his duties just days before Spain's opening clash against Portugal after taking the vacant Real Madrid position in the middle of pre-tournament preparations. 
Former Madrid and Roja stalwart Hierro steps into the breach, with his last coaching stint coming at second division Oviedo in the 2016-17 season. 
But Ramos insists that the 50-year-old has what it takes to shine in Russia. 
"We needed to move forward as quickly as possible. These were not pleasant times. Julen Lopetegui helped us qualify. He played a major part for us," he told reporters at Thursday's press conference.
"But the sooner we focus on the World Cup, the better for all of us. There are few people more qualified than Fernando to cover after Lopetegui's departure. We've all admired him as a player for a long time. So he's the perfect candidate to cover this post."
While admitting that Lopetegui's abrupt departure had been a shock for the squad, the Madrid defender called on his team-mates to focus on the task at hand as he prepares to clash against club team-mate Cristiano Ronaldo. 
"Well, these are situations that you're slightly more informed about what's going on, as a captain. We can all have our own personal interprations but the people who make decisions like this are others," he added.
"The sooner we put this in the past the better. We shouldn't focus on this too much. We have to play against the reigning European champions tomorrow and the sooner we focus on this the better. We have to forget about all of this.
"I think that the more experience one gets, the more mature you get and the more comfortable you feel in difficult situations. I face this World Cup with dreams in my eyes. I'm very ambitious.
"It's my first World Cup as captain. Football teaches us in difficult situations so I can learn a lot from this. We also understand that Julen will be a part of what happens in this World Cup, regardless of what's happened. We just want to focus on football. But we still have the same ambitions that we had two days ago. Obviously, no individual comes before the team in football."
Ramos signed off with a warning to reporters that he would rather focus on the World Cup than Spain's coaching strife. 
"I sleep well at night. I have a clear conscience. Some people like to use certain arguments to make themselves more popular but I rest easy. If anyone has any doubts, they can just check my CV," the Madrid star fired.
"At this stage, I'd like to leave this press conference, because it seems like we're in a funeral. But tomorrow we're playing in a World Cup, which is a marvellous event."