Marouane Fellaini
Fellaini undergoes knee surgery but Man Utd midfielder could return in March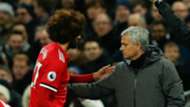 Jose Mourinho has confirmed Marouane Fellaini has had surgery after sustaining a knee injury but does not believe the midfielder will miss the rest of the season.
The Belgian midfielder picked up the injury in the 2-0 midweek loss to Tottenham.
Mourinho had not detailed the exact nature of the injury, but had previously suggested it was not a season-ending one.
And the manager confirmed that Saturday, while also acknowledging Fellaini had to undergo surgery to correct the problem in his post-match news conference following United's 2-0 win over Huddersfield Town.
"He had surgery this morning," Mourinho told reporters. "I don't want to be very specific, I would prefer the doctor to give some information officially that we can put on our website. But it's not the end of the season, not at all.
"It's a small intervention in his external meniscus and I would believe that by the end of March he can be back, and if he's back by the end of March I hope we have a big April and big May still to play in more than one competition."
The victory over Huddersfield left United in second place on 56 points, 13 behind league leaders Manchester City. The club remain in the FA Cup and the Champions League. 
Fellaini, who has played in 15 games for the Red Devils this season across the Premier League, FA Cup and Champions League and scored four goals, is out of contract at the end of the season.
On Friday, Mourinho joked with reporters that he told Fellaini he should sign the deal Manchester United had placed in front of him prior to learning the extent of the injury.