Kaizer Chiefs
FEATURE: Is Wiseman Meyiwa Kaizer Chiefs' next big thing?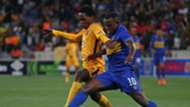 Kaizer Chiefs are known for unearthing raw talent and turning unknown players into prominent stars.
The culture of developing younger players hasn't stopped despite their little success over the past few years, and Wiseman Meyiwa appears to be the next big thing at the club.
Meyiwa made history by becoming the youngest player to start a match and score on debut at the age of 17 when the Glamour Boys beat Cape Town City 2-0 away from home two weeks ago.
As a result, he broke Marks Maponyane's record for being the youngest player to ever feature for the Naturena-based outfit. Maponyane, who made his Amakhosi debut at the age of 19 in 1981, went on to become one of the celebrated legends of South African football.
Doctor Khumalo, Jabu Mahlangu (Pule) and Itumeleng Khune also lived up to the expectations, and earned plaudits from the club fans for their contribution to the club's success over the years.
While it is worth noting that not every youngster was successful at Amakhosi, the secret is to keep them level-headed in order to get the best out of these up and coming players.
The likes of Patrick Mbuthu, Junior Khanye and Thabiso Malatsi had promising careers, but their lack of discipline off the pitch cost them dearly and they went down as villains more than heroes. 
Meyiwa appears to be calm on the pitch and very shy away from the playing grounds, and it's now up to Steve Komphela and the management to ensure that he grows and reach his full potential to be one of the assets of South African football for many years to come.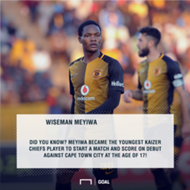 The fact that he played in two junior international Fifa World Cups (U17 and U20) despite being 17; something that no South African player has achieved in the past, means Meyiwa has a bright future ahead of him.
If he remains humble and maintains discipline, the Pietermaritzburg-born starlet will no doubt go on to achieve great success in his career, just like Khumalo, Khune, Maponyane and many others.
Goal spoke to Maponyane about how Meyiwa and many youngsters in the PSL could be nurtured in order for them to become recognizable stars, and here is what he had to say:   
"I saw that he is 17 and a few months. Congratulations to him, and that's a good start, because I have always said that if you want to crack it at Chiefs or Pirates, when they don't know you've got to make a statement, especially as a striker, they [the coaches] are always fugitive. I mean the bench wants results," Maponyane told Goal.
"The main thing is, give the youngsters a breakthrough. You cannot always say you've got good youngsters in the development but you don't give them a run, because that's how one get developed. The most important thing is that don't always try to get results out of them," he warned.
"What I mean is that, don't throw them in the lion's den when the chips are down, you'll put them under pressure because of the fans' anxiety. They [fans] will not even accept that he's up and coming etc. They don't care about his age. They want that ball into the back of the net. That philosophy hasn't changed and will never change that you rope them in when you're leading 3-0, when you're comfortable, when the game is not really a must-win kind of a situation. I know you've got to win every game, but I mean when you know that this one, when the pressure is on, then I can replace him with a bigger and an experienced player," he said.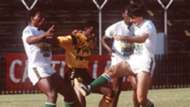 "If you want to break him, you will throw him in a Pirates vs Chiefs game when you have not been winning, and he becomes one of the worst players on the field and the poor youngster says, 'OK, what is expected of me in front of 80 000 people?'," Maponyane continued.
"The fact that Meyiwa has played in two different Fifa World Cups will come in handy for him to be honest, but as you know, when it's between the two teams and the fans, it has nothing to do with development achievement – it's more about what you can do now as we expect results. You must remember that Kaizer Chiefs have not been winning trophies for some time now, and that will also be important how Steve Komphela uses these youngsters. Meyiwa scored on debut, but he hasn't scored since then although he has been given the opportunity to start," explained the former Amakhosi striker.  
"Maybe, and maybe... it's not my department, but after scoring, give him the bench and introduce him later in the next match to continue where he left off in the previous match, because suddenly he would think, 'Oh, the pressure is on me and I'm expected to do what I did last week'. It's not on, because it's going to put a lot of pressure on him throughout, and not only him [Meyiwa], but most youngsters – that's how you blend them in," Maponyane concluded.