Goal United
FEATURE: Introducing new Caf president Ahmad
South Africa Chief Editor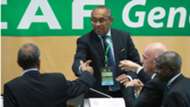 Four years ago Hayatou was re-elected unopposed, but this time Ahmad made history in the Caf election held in Addis Ababa, Ethiopia on the 60th anniversary of the federation.
Ahmad beat the Cameroonian with 34 votes to 20. Then the man who ruled African football for nearly 30 years, Hayatou, had to be dragged out of the Nelson Mandela Hall, ignoring journalists requests for comment.
Just yesterday Ahmad was still relatively unknown, even in Southern Africa but all that will surely change as the hours pass by. In the months and years to come, he will reshape African football.
So, who's the man who dethroned Hayatou?
Ahmad is 54-years-old and was also the President of the Malagasy Football Federation, and not much has been heard from him over the years because he was a silent member of Caf's Executive Committee.
He is from a northwestern Malagasy village and is the first Madagascan to run for the presidency of a continental confederation.
The Chairman of the Madagascar FA changed his stance when he revealed that he will be the one to take on Hayatou. The 70-year-old Hayatou had been fearing that Ahmad was pulling the strings from Southern Africa, especially when 24 African football association (FA) presidents met with Fifa president Gianni Infantino in Harare recently. That fear was realised on Thursday, March 16.
Infantino had previously revealed that the Zimbabwe visit was to celebrate Zaf president Dr Philip Chiyangwa's 58th birthday, which was reportedly a good excuse to discuss the election strategy. Nigeria Football Federation president, Amaju Pinnick, Safa's Danny Jordaan and Liberia FA president, Musa Bility were the influential leaders among the 24.
In Southern Africa, Ahmad had already gained the confidence of Cosafa last month, not surprisingly since its headed by Chiyangwa. Ahmad's victory will come as a relief to South Africa, as their association had long bemoaned the political power struggle Safa faced against the French language nations in the North of Africa.
Dominant nations SA and Nigeria will now be relieved that their bold stance to support Ahmad instead of Hayatou, wouldn't come back to haunt them if the Cameroonian held sway. The man taking the credit for Ahmad's victory is Chiyangwa who was confident that the Madagascan will win.
"This was our first meeting since the new executive was voted into office and we are happy with the resolutions taken by the Council which I think will change the face of the Region," said Chiyangwa for Cosafa last month.
Now, here's Zifa (the Zimbabwe Football Association) officials celebrating Ahmad's victory.
VIDEO CONFIRMATION! @online_zifa lift Ahmad Ahmad in the air as they congratulate him for defeating Issa Hayatou. #CAFElection2017 pic.twitter.com/9xO8lqAQav

— Sports Radio BrilaFM (@889BrilaFM) March 16, 2017
---
COSAFA AND AHMAD'S POINTERS
---
Cosafa reached the following conclusions in their meeting, a meeting which effectively had a great influence over the elections:
To unanimously endorse the candidature of Madagascar FA President Ahmad Ahmad for Caf President in the upcoming Caf elections in Ethiopia
That Cosafa will only support sitting FA Presidents, vying for Caf or Fifa elections
And that Cosafa supports the equal representation both within Caf and Fifa positions and also support the different language category representation as articulated in recent Caf statutes.'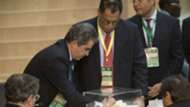 Safa president Jordaan at the Caf elections
What does Ahmad Ahmad stand for in changing Caf?
To promote football so as to lead to inclusion
To bring about reconciliation within African football
To give greater recognition to those who played a major role in African football
To create infrastructure that suits African football while avoiding the creation of 'white elephant' stadiums
---
IN AHMAD'S OWN WORDS
---
What Ahmad has to say about his vision for Caf
Less politics
"My program is the reform of the administration of Caf to avoid the involvement of politics in the organization."
On reforming Caf
"A good candidate… I can't say, but I am a candidate for change and the majority wants change. I am the only one who could dare present a candidacy for the change. And I am vying to bring this change."
"What makes my programme different is its uniqueness, I want to reform the administration, I can't work with the current administration."
"I took (my decision) after hearing some federation presidents (say they) want change."
On Hayatou's long hold on Caf
"In life, there is a limit. Typically in politics, everyone has his chance - maybe it is time."