Opinion
FC Ifeanyi Ubah need a serious wake-up call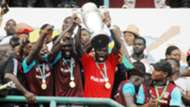 ---
COMMENT    By Kunle Fayiga     

Follow on Twitter
---
When energy tycoon Patrick Ifeanyi Ubah took over the assets and liabilities of Gabros International in 2015, not many would have thought the new entity, FC Ifeanyi Ubah, would be an instant hit.
However, they were exactly that, finishing fourth in the Nigeria Professional Football League, winning the 2016 Federation Cup and booking a berth in the Caf Confederation Cup.
All this was made possible by Ubah's heavy investment in the club, and his acquisition of a robust coaching staff made up of foreigners and a squad that had a mix of Africans and even Brazilians, has underpinned the club's success.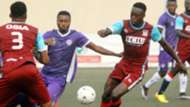 FCIU became something of a powerhouse in the NPFL within a short period of time, but fast forward to 2018, and the Anambra Warriors were languishing in relegation waters, in 17th place.
Indeed, the club will surely have breathed a major sigh of relief when the season was brought to an abrupt end after 24 matchdays.
It's encouraging that a popular figure like Ubah was willing to invest his fortune into football, but one could argue that his early ambitions were too grand.
FCIU have often embraced an aggressive PR strategy that has tried to paint them as a one of the country's biggest clubs, despite them not having the history or the success to back it up.
#NPFL18 table pic.twitter.com/xMgb3fwi7A

— League Management NG (@LMCNPFL) September 2, 2018
An example is calling themselves the NPFL Galacticos, a nod towards the famous Real Madrid side of the last decade. It is not that FCIU don't have a few big names, but they are far from being a resemblance of the real Galacticos!
FCIU made headlines when Godwin Obaje, top scorer of the 2016 NPFL campaign, was signed from Wikki Tourists last year. It was reported to be the most expensive NPFL transfer ever with the forward receiving a greater salary than anyone in the division had before him.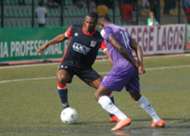 The Kogi State native, who is yet to truly find his footing in Nnewi, has been hampered by injuries and is hardly making headlines like he used to in Bauchi.
Obaje and a host of players, including those who have left the south east club like Stephen Eze, now at Bulgarian top-flight side Lokomotiv Plovdiv, are reportedly owed a backlog of salaries.
Ifeanyi Ubah announced a partnership with West Ham United in 2016, but nothing concrete has come out of the deal other than the flagship company of Patrick Ifeanyi Ubah, Capital Oil, displayed on the hover boards of the Hammers' home ground and, until recently, the website.
FCIU also changed their kits to claret and sky blue.
Godwin Obaje is the most expensive player in the Nigeria Professional Football League ever. His transfer cost Ifeanyi Ubah FC N30 m in 2017.

— Africa Facts Zone (@AfricaFactsZone) August 16, 2017
One of the biggest things to rock the club was when owner Ubah was arrested by Nigeria's domestic intelligence agency, the Department of State Services, in 2017 over alleged economic crimes.
It's left FC Ifeanyi Ubah in shambles, and the club hierarchy can be thankful for the premature end of the NPFL, with no team facing relegation...otherwise they could be shaping up to a season in the National League, rather than in NPFL Group B.
The story I heard from Nnewi is disheartening.
FC Ifeanyi Ubah players have resorted to begging to survive.
They are being owned catalogue of wages and sign on fees
The Proprietor is campaigning for Anambra south senatorial district election .
Pathetic!

— KAYCEE JAY (@Kayceejay125) September 3, 2018
Rather than gloat about past achievements that carry very little weight and attach names that don't match at all, the club must look inward, try to fix their obvious problems and realign their objectives.
A club that is just three years old can't be aiming at winning the league and being involved in continental football.
It would definitely prompt financial rewards, but requires consistency to be achieved. Are they really realistic aims at this early stage?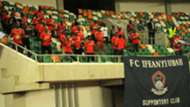 What FCIU have been able to achieve in such a short space of time is good, but it's too little to dwell on.
Instead, they should draw up a long-term plan that will see the club climb up the ladder gradually and firmly establish themselves as a powerhouse.
If they continue to dwell on the present without a clear blueprint for the future, they will be no different from the government-run clubs, and there will be no pride in been privately-owned.
It will just be the same old story, which at the end of the day, does little or nothing for the growth of the Nigeria Professional Football League.
Last season's premature end to the NPFL season must be a wakeup call for Ifeanyi Ubah.