Bayern München
FC Hollywood is back! Bayern in chaos as Ancelotti feels the heat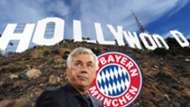 When Roman Polanski was filming the Oscar-winning 1974 movie Chinatown, Faye Dunaway asked the director what was her character's motivation for a particular scene, to which Polanski replied "your paycheck."
During the filming of 1982's Blade Runner , Ridley Scott and Harrison Ford had repeated run-ins on the set. Eventually, it got to the stage where Ford went above the director's head and complained to the studio, resulting in the executives making changes to the final film without Scott's involvement.
Hollywood is filled with stories such as these: directors feuding with actors; actors becoming more powerful than the directors; and even actors conspiring to have directors fired or replaced.
During the 1990s, Bayern Munich became known as 'FC Hollywood' because their players featured in the gossip pages of the newspapers as frequently as on the sports pages. This resulted in trophy-less seasons as the tabloid stories replaced on-field performances as the narrative of the club. Even the manager was not exempt, with Giovanni Trapattoni's press conference antics dominating the front pages.
Ottmar Hitzfeld's appointment in 1998 saw Bayern return to where they belonged: the back pages of the newspaper and the final stages of the Champions League. After winning just two league titles in the 1990s before his arrival, Hitzfield lifted the Bundesliga in each of his first two years. The era of FC Hollywood was over.
Until now.
Before the season began, Bayern boss Carlo Ancelotti was under-fire from people inside and outside the club. A string of poor pre-season performances saw people start to question Ancelotti's ability to guide Die Roten back to the promised land of the Champions League final.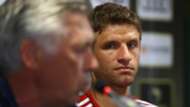 However, it was not until the players themselves started to come out with their own criticism that things really turned bad for Bayern.
First, Thomas Muller expressed his exasperation at being left on the bench . "I don't know exactly which qualities the coach wants to see," Bayern's fourth-highest goalscorer ever told reporters. "But mine seem not to be 100 per cent in demand."
Robert Lewandowski followed suit and, unlike Muller, could not be accused of hitting out because he was not playing. Following their domestic defeat to Hoffenheim, the Polish forward instead was aggrieved with the lack of spending in the transfer window compared to their continental rivals.
Club CEO Karl-Heinz Rummenigge and former player Stefan Effenberg both scolded Muller and Lewandowski, with Rummenigge coming down hard on the latter: "Clearly Robert has been affected by the PSG transfers. Nevertheless, he is employed by us as a footballer and earns a lot of money. I regret his comments. Anybody who criticises the trainer, the club or his teammates will immediately be in trouble with me personally."
But it is not just players speaking out against the manager or complaining about 'FC Hollywood'; there are also problems at a higher level.
Rummenigge's comments brought their own criticism from Uli Hoeness, who defended Lewandowski's willingness to speak out: "I read the whole article and it was not so bad at all. It's always a good thing for a player to worry about his club."
Hoeness turned attention back to the on-field performances, with Bayern struggling to find form in the early stages of the season, sitting sixth in the Bundesliga after the first three games: "The real problem on the weekend was not the interview of Robert Lewandowski to Spiegel , but that we played very, very weakly and lost, and that's not what anyone in the newspaper says."
Bayern's performance in Europe was similarly criticised, with Franck Ribery throwing his jersey after being taken off , and Ancelotti's approach against the 10 men of Anderlecht provoking a negative response from Arjen Robben, both long-serving players and club favourites at the Allianz Arena. "We have to question ourselves," the Dutchman told reporters after the unconvincing 3-0 win. "We have to talk about this and we have to improve it."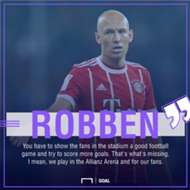 The 2014 film version of the children's book and television series Paddington could have sounded a lot different. Initially, Colin Firth was cast as the voice of the Peruvian bear, but producers felt that the character needed a more youthful tone. James Bond star Ben Whishaw was drafted in as Firth's replacement, and the movie became an unexpected global success.
Bayern Munich fans have already had their heads turned by a younger model. Having beaten Germany's most successful club on Saturday, Hoffenheim manager Julian Nagelsmann revealed that he always dreamed of managing in Munich . The 30-year-old is regarded as the best young manager in the country, having avoided relegation in his first season and then finishing in the top four in his second.
"FC Bayern does play a big role in my dreams," Nagelsmann admitted. "I lived in Munich for many years and I am from Landsberg am Lech. ​That is my home. ​My wife and my kid will move to Munich soon, we're building a house there. FC Bayern would make me even happier. It makes me happy, when someone like Uli Hoeness, who made FC Bayern so huge, thinks highly of me."
With Bayern Munich now dominating the front and back pages, and rumours of a managerial defection to China, Ancelotti will need to keep his players under control and ensure that results are expected, or else he could be the next Hollywood star to find themselves needing to audition for a new role.