Kaizer Chiefs
Famous Kaizer Chiefs supporter Saddam Maake speaks on his fallout with the club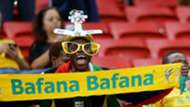 He is one of the most recognised faces in South African football particularly on the stands cheering on his favourite club, Kaizer Chiefs.
The Amakhosi's famous supporter' Freddie Saddam Maake' has revealed that he had no beef with the Soweto giants' hierarchy.
Many will remember the man during the days of Louis Shakoane, who was famed for his role as the club's Public Relations Officer (PRO), for singing on the stands.
However, in recent times Maake is not seen among the Glamour Boys' faithful and that has raised talks that he was in poor health.
But the 48-year Amakhosi supporter' who claims to be the inventor of the vuvuzela' insists he still attends every game.
"I'm fine. Thanks for checking on me. Those things can happen when somebody talks about it'" Maake told TimesLive.
"I attend all the Chiefs games. I'm the first coordinator for Nafsa' the National African Football Supporters Association. I am here at Gauteng Sports (and Recreation Department) now. I'm also pursuing my music career," he continued.
Speaking about his fallout with the Naturena-based club, the 60-year-old rubbished reports that he is not on good terms with the club.
"There are no problems with Chiefs. I attend all the games. I was at the last game where we beat Cape Town City (1-0 at FNB Stadium on Saturday night)'" added Maake.
"You know what happened. I don't want to involve Kaizer Chiefs too much because I've been supporting Chiefs for 48 years," he added.
"When I needed something' I couldn't get (contact) Bobby (Motaung' Chiefs' football manager)' or Kaizer (Motaung' Amakhosi's chairman) himself," Maake indicated.
"With the merchandise' every year I got the new home and away jersey and a tracksuit. All the information' when I needed it' I would get it," he explained
"Even the new signings' I was always told by Bobby who he was going to buy." declared the supporter.
"Even the players' I couldn't get with them. I send them messages of' 'Well done'' when they win'." 
"Me' I don't like to go to Chiefs' offices just because I'm Saddam or wara wara. I won't go there." concluded the die-hard supporter.
With the Soweto Derby set for next weekend against Orlando Pirates, Maake will be expected to be on the stands and lead the 'Khosination'.