U20 Women's World Cup Qualification Africa
Falconets will not disappoint against Tanzania, says Danjuma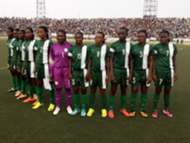 Nigeria U20 women coach Christopher Danjuma has said his side is focused on making country proud with a big win against Tanzania on September 16.
The Falconets stepped up with preparations for next week's first leg, first round of the Fifa U20 Women's World Cup qualifier with four friendlies, scoring 24 goals and conceded four, including their 8-0 win over Beautiful Tours in Abuja.
And the Nasarawa Amazons gaffer assured that they are perfecting their strategies to record a massive win against the east Africans.
"Preparation is encouraging because the girls are really putting to practice what they've learnt in the last two weeks," Danjuma told Goal.
"Except for one or two areas that need finishing touches but every other areas are okay. We don't want to be carried away or allow it get into our heads by the results in our friendlies.
"What we are working on now is number of goals we could get in a given period of time in the game is the reason why the goals keep coming in the friendlies. Like in the first 15 minutes, we want to be two goals up without conceding none.
"We are doing well with the corner kicks and throws at the moments, but areas we hope to work on are the spot kicks and free kicks before the match.
"We are happy with how the Super Eagles have performed and made Nigerians proud against Cameroon. And our focus is on keeping the spirits and happiness of Nigerians  on the high and hope not to disappoint them."