Fàbregas
Fabregas better than ever at Chelsea, says Conte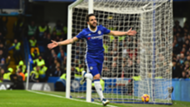 Antonio Conte says Cesc Fabregas has improved as a player in recent weeks, despite the midfielder being in and out of the Chelsea first team this season. 
Conte defends Mourinho's over De Bruyne and Lukaku sales
Fabregas came off the bench against Manchester United in a 1-0 defeat at Stamford Bridge, despite having started the previous three, as Nemanja Matic stepped back in to partner N'Golo Kante. 
However, the Spaniard is still providing more assists per minute than any other player in the Premier League and Conte is aware of what a weapon an "improved" Fabregas will be in the final months of the season. 
"This season he faced a new situation. Cesc, in the past, has always played every single game," he said at a news conference at Cobham Training Centre. "It's not easy to change. But, for sure, Cesc showed me that he is not only a great player but a great person.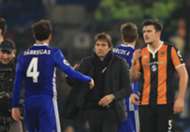 "I think, this season, he has improved a lot in all aspects and, for me, he is a really, really important player. Cesc gives you great quality, great fantasy and assists. Yeah, but it's important for me, above all at this point of the season, to manage very well the situation.
"Understand when it's right, for example, to play with Cesc or with Matic. We are talking about two great players, for sure with different characteristics. Nema is more physical, more technical, less fantasy than Cesc. Cesc has more fantasy but is less physical than Nemanja."
Conte has faced few injuries during his time in charge of Chelsea and he has lacked the fixture congestion that European competition causes - which has led to some players in his squad getting very few minutes. 
Chelsea chose to play their strongest side against Manchester United, which meant that younger players who had played in the FA Cup previously didn't get a game. Conte thinks that his less experienced players will still develop in his squad of superstars but he also wants them to keep pushing for a start. 
Man Utd fined £20,000 for misconduct against Chelsea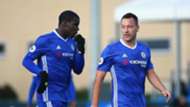 "I think, first of all, for the young players to train with this type of player – Fabregas, Willian, Hazard, Costa, John Terry – is great," He continued. "You learn every day what it means to be a champion. It's important to stay with this type of player and to learn.
"But also, for me, they are not young players. For me, they are Chelsea players. Chelsea's players. I try to improve all my players in the same way: I work in the same way with the young and old players, and I put great attention in it for them every day. That is normal for me.
"They must have this ambition to play in the first-team. It's normal, this. I want to see this, this ambition. That they want to show me they deserve to play with the first-team. You must be sure, though, if someone deserves to play that they do play."