WTF
EXTRA TIME: Watch Tunisia's intimidating atmosphere for Sundowns' Caf Champions League game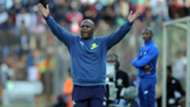 The Brazilians are in second position on goal difference and a win against Saint George could cement their place in the next round.
Here's how the fans reacted to their big game on Wednesday night.
You can also watch the intimidating atmosphere at Rades in Tunisia, which received much criticism from South African fans due to how the smoke made visibility difficult.
a round of a applause for Motjeka Madisha #Sundowns

— Mothabeleng (@sesi_motha) June 21, 2017
Here is our confirmed Starting XI for our CAF Champions League clash against E.S Tunis. #Sundowns #CAFCL pic.twitter.com/DmS7soigZw

— Mamelodi Sundowns FC (@Masandawana) June 21, 2017
Just one win for Sundowns and no loss will make us go through because ST George and AS Vita won't beat Esperance. #CAFCL https://t.co/KSsSjZq0TR

— Sundowns_Fanatic (@Solomon_Madube) June 22, 2017
@CAF_Online Caf must try to be strict with northern African countries what i saw in a Esperance vs Sundowns game was unaaceptable.

— eddie tom chauke (@edmorechauke) June 22, 2017
Sundowns been traumatizing psl teams since inception, even before we've been at it , don't get it twisted Sundowns is a big team

— Biko-ncious (@H_ezee) June 22, 2017
It's all over from Tunisia as the Brazilians pick up a valuable point away from home. #Sundowns #DownsLive #CAFCL pic.twitter.com/L47n5BkTiA

— Mamelodi Sundowns FC (@Masandawana) June 21, 2017
The notion that Sundowns supporters only declared their alliance to Sundowns after CAF is very lame

— Biko-ncious (@H_ezee) June 22, 2017
Brazilians Pick Up Valuable Point. Gallery: https://t.co/6IIFwCczZX pic.twitter.com/100w6q4eoi

— Mamelodi Sundowns FC (@Masandawana) June 22, 2017
Have u ever heard William Shongwe commenting objectively in a sundowns match? Funny how they justified Zwanes caution

— LeHippy (@nkerelang) June 22, 2017
92' Visibility poor, as a cloud of smoke sits over the pitch. #Sundowns #DownsLive #CAFCL

— Mamelodi Sundowns FC (@Masandawana) June 21, 2017
Increasingly difficult to see with several flares going off in the stands! #Sundowns #DownsLive #CAFCL pic.twitter.com/OauUWFqzDT

— Mamelodi Sundowns FC (@Masandawana) June 21, 2017