South Africa U23
EXTRA TIME: Watch South Africa U23 thank the fans for qualifying for Afcon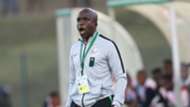 South Africa will participate in the U23 Afcon along with host nation Egypt, Cameroon, Cote d'Ivoire, Ghana, Mali, Nigeria and Zambia in November.
The top three teams will then progress to represent the continent at the Tokyo 2020 Olympic Games.
The South African U23 team is excited to make their dreams come true, after beating Zimbabwe in their Afcon qualifier 5-0 on aggregate.
We can watch videos of U23 captain Tercious Malepe, star player Sipho Mbule and head coach David Notoane address their supporters.
This comes after their 0-0 second-leg draw away in Zimbabwe on Tuesday, and the team recognised the importance of their convincing first-leg victory in front of their home fans.
You can watch the videos, see photographs of the team and even listen to a longer interview with Notoane, all thanks to Safa media's Twitter posts below.
"Thank you South Africa," National Under-23 captain Tercious Malepe thanking South Africa for all the support they showed towards them during their AFCON qualifiers for this year's continental showpiece. pic.twitter.com/SxUYCliypk

— SAFA.net (@SAFA_net) September 11, 2019
EGYPT HERE WE COME: Sipho Mbule thanking all South Africans for all their support during their AFCON qualifiers for this year's continental showpiece set to take place in Egypt. pic.twitter.com/4i5Q38h5x9

— SAFA.net (@SAFA_net) September 11, 2019
National Under-23s already at the Joshua Mqabuko Nkomo International Airport ahead of their flight back to South Africa.
South Africa qualified for this year's U-23 AFCON tournament after beating Zimbabwe 5-0 on aggregate in the final round of qualifiers. pic.twitter.com/EMXX531hpd

— SAFA.net (@SAFA_net) September 11, 2019
EGYPT HERE WE COME: National Under-23 coach David Notoane thanking all South Africans for all their support during their AFCON qualifiers for this year's continental showpiece set to take place in Egypt. pic.twitter.com/HZ15e20yJU

— SAFA.net (@SAFA_net) September 11, 2019
Listen: SA U23 head coach David Notoane and his Zimbabwe counterpart Tonderayi Ndiraya speaking after 2nd leg for U23 AFCON https://t.co/c97bNWQtVE # via @SAFA_net

— SAFA.net (@SAFA_net) September 11, 2019
National Under-23s during their regeneration session at the team's hotel in Bulawayo, Zimbabwe this morning.
South Africa qualified for this year's U-23 AFCON after beating Zimbabwe 5-0 on aggregate. pic.twitter.com/HT2ZipfVbD

— SAFA.net (@SAFA_net) September 11, 2019
South Africa's national under-23s booked a spot in this year's Africa Cup of Nations to be played in Egypt after beating Zimbabwe 5-0 on aggregate. South Africa beat Zim 5-0 in the first leg and drew 0-0 in the second leg pic.twitter.com/TaNQlZ0Xo8

— SAFA.net (@SAFA_net) September 10, 2019
Fulltime Score: 🇿🇦 0 ⚽ 🇿🇼 0
South Africa qualified for this year's #U23AFCON after beating Zimbabwe 5-0 on aggregate in the third and final round of the #U23AFCONQualifiers.

— SAFA.net (@SAFA_net) September 10, 2019