WTF
EXTRA TIME: Watch Manyisa train ahead of the Nedbank Cup final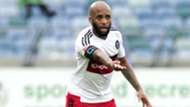 Bucs fans seem to be having a party with their massive following down in Durban, added to the fans travelling down from Gauteng.
On the pitch you can watch Oupa Manyisa training with the ball, and perhaps he is getting ready to prove his doubters wrong.
What about SuperSport United? They're also playing in this final and are actually the favourites when it comes to matters on the field.
Well, you can watch an awesome video of their players walking and talking in Durban. 
We are with @SuperSportFC as they take their pre-match walk in Durban. #NedbankCupFinal https://t.co/mDkScDBdoe

— SuperSport (@SuperSportTV) June 24, 2017
Bucs Captain @OupaManyisa20 calm and relaxed during the Team's training session at the @MMStadium last night.#NedbankCupFinal pic.twitter.com/Qr8srktQ64

— thandi merafe (@thandi_399) June 24, 2017
GAME DAY!
Ezikamagebhula - WE ARE READY!!!
#OnceAlways #NedbankCupFinal pic.twitter.com/F16tBqNLW2

— thandi merafe (@thandi_399) June 24, 2017
GAME DAY! The last act in this season's football show #OnceAlways #NedbankCup pic.twitter.com/FyTlGiO0G1

— Orlando Pirates FC (@Orlando_Pirates) June 24, 2017
Good morning,Let be thankful for the day we have been blessed with.Gods love is for you. pic.twitter.com/GXFGbEnIek

— Marc Van Heerden (@MarcVH08) June 24, 2017
#NedbankCupFinal
Orlando_Pirates players welcome at the @kingshakaint airport ahead #OnceAlways pic.twitter.com/JmrhKIUwD4

— thandi merafe (@thandi_399) June 24, 2017