WTF
EXTRA TIME: Was Van Wyk looking for an illegal live stream of Manchester United vs. Chelsea?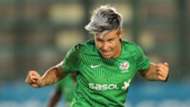 The South African ladies team star, Janine Van Wyk was happy with three points for her new American club, Houston Dash.
However she was also asking Twitter followers for a workable stream of the Manchester United vs. Chelsea game.
In case you didn't know, it's illegal to use illegal streams of sports events. Was Van Wyk asking for an illegal stream? Legal streams don't stop every two minutes unless you have a really bad Internet connection, which is quite unlikely in Van Wyk's case. She also wouldn't have to ask Twitter for a legal stream, because a legal subscriber should already have one.
So, we place a question mark on the matter and let's hope Dash can fix her up with a proper satellite channel of the Premier League on her TV soon.
We are spoilt with excellent broadcasting of football in South Africa. If you can't watch the game legally, you can at least follow our LIVE text commentary on Goal.com
Anyway, no matter where Van Wyk watched the game, as you can see, she found the game and really enjoyed it!
Wow it felt really good out there today.
3pts in the bag Thank you to all Dash fans who came out in numbers to support us. #DashOn

— Janine Van Wyk (@Janinevanwyk5) April 15, 2017
Can anyone give me a proper live stream link to the United vs Chelsea game that doesn't freeze every 2 minutes?

— Janine Van Wyk (@Janinevanwyk5) April 16, 2017
Outstanding performance by @ManUtd today Every player played his heart out.. GLORY GLORY MAN UNITED AS THE REDS GO MARCHING ON ON ON...

— Janine Van Wyk (@Janinevanwyk5) April 16, 2017
Herrerrraaaaaaaaa GET INNNNNNN THEEERRREEE

— Janine Van Wyk (@Janinevanwyk5) April 16, 2017
GOOOAAAAAALLLLLLL RUSHFORD COME ON UNITED... GOOD START @ManUtd

— Janine Van Wyk (@Janinevanwyk5) April 16, 2017