SuperSport United
EXTRA TIME: SuperSport United's Furman and Brockie honoured for Caf nominations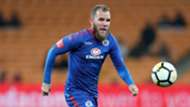 It's the second year in a row that Sundowns players are getting attention, with Onyango having won the award last year.
For this reason the bigger news this time, is that these two SuperSport United players are recognised.
Here's how Jeremy Brockie and Dean Furman reacted to their nominations. Are you wondering how Brockie got in, when he's from New Zealand?
Well, this award is for players based in Africa, so it doesn't matter if you're originally from outside of the continent. In the same way Leo Messi can win awards in the Uefa Champions League, even though he is not European.
Brockie deserves his praise after impressing in the Caf Confederation Cup for United. You can read how his fans have reacted too.
SuperSport United will play TP Mazembe in the final later this month.
Great to see South African football being recognised on the continent! Thanks for all the messages.

— Dean Furman (@de4no22) November 1, 2017
Very honoured to be nominated for this award!!  https://t.co/glTM47AOoo

— Jeremy Brockie (@JRBrockie) November 1, 2017
Huge honour to be nominated for the African player of the year (based in Africa) along with @JRBrockie @percymuzitau22 @masindeonyango

— Dean Furman (@de4no22) November 1, 2017
Thanks guys!!  https://t.co/HnYx9TGETh

— Jeremy Brockie (@JRBrockie) November 1, 2017
CONGRATS to @masindeonyango @percymuzitau22 @de4no22 @JRBrockie who've all been nominated for CAF African Player Of The Year (Africa) 🇺🇬🇿🇦🇳🇿 pic.twitter.com/PyBzz06oJG

— DiskiStyle (@DiskiStyle) November 1, 2017
Congratulations for nomination but please don't be surprised if you not nominated for Local by @OfficialPSL,they don't recognize Africa pic.twitter.com/3NcdtQuspI

— Nathi (@nathi_mdy) November 2, 2017
Kiwi B rocks in Africa ... well done Brocks

— Reaz Moorad (@reaz_moorad) November 2, 2017
Congratulations. Hope to see you celebrate by banging in a few next week in Wellington.

— gluaykhai (@wellywolf) November 2, 2017