South Africa
EXTRA TIME: How South Africa reacted to Bafana's Madagascar defeat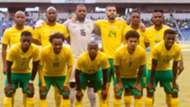 Bafana Bafana drew 0-0 with Madagascar at full-time, and then went on to lose on penalties.
As usual you can look forward to the humour of the South African fans on Twitter, which nearly makes up for the disappointing showing on the field.
Bafana played a second string line-up but they should've still beaten Madagascar.
Here's how the country reacted on social media.
Bafana Bafana about to remind us why we aren't in the world cup pic.twitter.com/U2v71mQlSu

— booger. love (@uNhlakaa_) June 3, 2018
So, Bafana Bafana lost against these guys today pic.twitter.com/ipNVNsJnN6

—  BongZ DA KinG  (@Bongani803) June 3, 2018
I was going to tweet that Bafana is worse than the NPA but the NPA is at least capable of scoring own goals.

— Ranjeni Munusamy (@RanjeniM) June 3, 2018
Madagascar 🇲🇬 beat @BafanaBafana 🇿🇦 4-3 on penalties and advance to the #CosafaCup semi-finals. Hay...I don't know. @COSAFAMEDIA pic.twitter.com/fTHth510RG

— Velile Mbuli (@Veli_Mbuli) June 3, 2018
We have no reason not to win the COSAFA CUP m.not asking BAFANA BAFANA but.M.telling them. #spirit' Madagascar has never scored a goal against us. Never registered a win against our Honourable, Bafana ba rona.

— baba mthethwa (@hothaata) June 3, 2018
FT: @BafanaBafana 🇿🇦 0-0 Madagascar 🇲🇬 , penalties will decide this tie. #CosafaCup @COSAFAMEDIA pic.twitter.com/nEuuFMhfXt

— Velile Mbuli (@Veli_Mbuli) June 3, 2018
The last time I saw Bafana Bafana score a goal I think it was when they where called Ama-Glug-Glug pic.twitter.com/7czOLpP1s7

— Success Pisco Katlego (@SuccessOnLife) June 3, 2018
Bafana Bafana are struggling against a country that doesn't appear in 92.9% of "Africa" tattoos.

— Siviwe Breakfast (@AssVegas) June 3, 2018
I swear I didn't know Bafana Bafana were playing today against Madagascar!! & I'm NOT the only one pic.twitter.com/FZwkcu8kyg

— Natt Aubrey🇿🇦🇿🇦🇿🇦 (@Simply_Natt) June 3, 2018
Let's watch Bafana Bafana.....if they win they qualify to go to #Russia2018WorldCup  pic.twitter.com/LYHUddUnTB

— MALUME SHEPHERD (@sharepart) June 3, 2018
Top 2 South African comedians that made it internationally:

Trevor Noah

Bafana Bafana

— Dr Mandisi (@Mandac5) June 3, 2018
Bafana Bafana lost. Journos gon low key have an attitude all week when we remind them about Shakes.

— Oratile Alcantara (@ora_tiwee) June 3, 2018