Transfers
Ex-Arsenal man Eboue angling for Premier League return as he visits London
Aron Buda & Chris Wheatley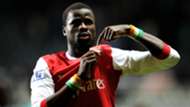 Former Arsenal defender Emanuel Eboue has set his sights on returning to the Premier League after spending a year suspended from footballing activities. 
Get 6/1 odds on Leicester to beat Arsenal
Goal understands that Eboue, who was punished by FIFA with a year's ban after failing to pay his ex-agent €1 million in fees, is keen to return to English football as soon as possible. 
He has been training with Hungary's Ferencvaros since June, but won't be making the switch a permanent one as his suspension comes to an end. 
While Eboue is happy in Budapest, a source close to the player explained his goal is to restart his career in the English top flight, where he spent seven years with the Gunners before moving to Galatasaray in 2011.
He is planning an imminent visit to London, where his son plays for the Arsenal junior divisions, with the goal of finding a new club.
On Tuesday he was put through his paces by fellow Hungarian side Vac FC, due to Ferencvaros' pre-season trip to Denmark. Vac are owned by English multi-millionaire John Williams. 
Eboue, 34, has admitted being out of football for over a year took its toll on his spirit. 
At his lowest point, he said back in December, he even considered suicide, telling the Telegraph: "There are times when I stay in my bedroom and don't come out. One, two days in that room. Alone. I lock the door and am just thinking. I spend a lot of my time reading the Bible and will say, 'Emmanuel, why are you doing that? It's no good for your family'.
"My son Mathis is seven and plays for Arsenal's academy. Every time I go there with him people ask me what's going on and it makes it worse. 'Emmanuel, have you retired?' So I have to explain my situation. It makes me more depressed."