Ethiopia
Ethiopian league suspended after referee's attack by players and coach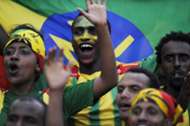 A controversial decision led to a referee's attack by Ethiopian Premier League side Welwalo Adigrat University on Sunday.
Military side Defence Force SC and Welwalo Adigrat were tied at 1-1 when the referee controversially ruled that the ball had crossed the line and awarded a goal to Defence.
Welwalo Adigrat players then chased him down and footage shared by broadcaster ETV, shows the referee being punched and pushed to the ground by one of their coaches as a scuffle unfolded.
The man punching the official in the footage is said to be the coach of Welwalo Adigrat and has since been fired.
The Ethiopian Football Federation has also suspended all games in the league.
This is one of several instances of violence in Ethiopian football recently, and this latest incident triggered an immediate ban on games with the Federation officials said to meet the league's 16 teams on Thursday.