Super League
Elavarasan left disappointed with silly mistakes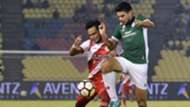 Melaka United suffered only their second defeat in six matches under the helm of E. Elavarasan. The new head coach had inspired the team to eight points from six matches played thus far with two wins, two draws and two losses.
Back at Hang Jebat Stadium after earning at big 3-4 win over Kuala Lumpur in midweek, Melaka struggled to reach the same level of performance and the second half defensive display in that first match against KL came back to haunt them. 
Despite taking a 2-1 lead into half time, it turned out to be a second half nightmare for the home side as they conceded three goals to eventually lose 2-4. Elavarasan was also not particularly pleased with the manner of his team's defending throughout the match.
"At 2-1 we made silly mistakes that allowed them to equalise. Then for the penalty, we had enough men to cover the situation but the reaction and decision making wasn't good enough and that cost us."
"We made changes but to little effect. We put on Fauzi as we needed more attackers. We held the ball well but just couldn't pass it on to our attackers quick enough. We tried to find the goal but we weren't sharp enough tonight," Elavarasan told TV9 after the match.
Elavarasan will now have some time off to work on his team before their next match against PKNP at Perak Stadium on June 19 as the league takes a short break due to the Aidilfitri celebrations. Melaka are currently in 10th spot with 17 points collected thus far.
They have some breathing space to the two relegation spots below them, a gap of five points separating them from Negeri Sembilan and Kelantan.