Championship
Ekuban sets lofty target for Leeds United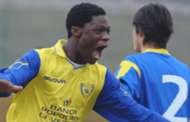 Leeds United striker Caleb Ekuban is hopeful about the team's chances of reaching a playoff spot by the end of the English Championship.
The Whites have set sights on securing one of three promotional slots available, having played in the lower tier since their Premier League demotion in 2004.
Ekuban, who only joined Thomas Christiansen's outfit in July, has confidence in their ambition as they currently sit only two places down the playoff zone on the league table after matchday 19.
"I think that the play-offs are quite okay for our standards because we think there are not too many teams that are better than us," Ekuban told YEP.
"We think that the play-offs will be the right goal and I always think that we can even achieve more.
"There is a huge expectation but we know that we are players that can deal with that kind of pressure and we are showing it.
"Okay, maybe two or three weeks ago we didn't show it but we still know that we are comfortable playing under pressure so we are okay with it."
Ekuban has tallied a rather small number of appearances for Leeds so far owing to a three-month injury layoff.
Yet to score in the Championship, the 23-year-old has made four appearances involving two starts.
The Italian-born, who wants to represent Ghana at senior level owing to his parentage, was on the books of Albanian side Partizani Tirana last season, scoring 17 times in 34 league appearances.