PSG
'Egos not heroes'? Why claims of PSG player power are completely false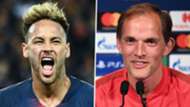 When Paris Saint-Germain's players gate-crashed Thomas Tuchel's press conference after their 4-0 rout of Monaco in the Trophée des Champions and demanded that their coach belatedly fulfil his obligation as a new arrival to sing in front of the entire group, the German launched into a few bars of 'Happy' by Pharrell Williams.
It felt apt, a fitting reflection of the instantaneous rapport that the former Borussia Dortmund boss had struck up with the star-studded squad.
However, Tuchel and his players couldn't have looked any further apart during PSG's Champions League opener against Liverpool. Even more alarmingly, Tuchel's take on the game was as worrying as his side's performance at Anfield.
He claimed, "We put in a great performance in the first half." 
In truth, they had been lucky to be only 2-1 down at the break, with even centre-half Thiago Silva admitting afterwards that they had been "in trouble" before Thomas Meunier lashed home a goal out of nothing just before the interval.
Tuchel argued: "We conceded two goals in the first half but never at any point did we lose our confidence." 
Presumably, then, the colossal gap between his midfield and stellar forward line was intentional.
He added, "We played with a lot of bravery and mental strength." 
However, PSG's recovery from two goals down actually had more to do with Liverpool lapses in concentration than PSG's character. 
In fact, the visitors had exhibited their customary lack of bottle when the Reds cranked up the pressure again in injury time.
Tuchel concluded, "The score didn't tell the story of the game." 
This was the one thing he got right, but even then, accidentally. The final score was misleading, alright, as it suggested a close game. In reality, though, it had been anything but; PSG had been played off the pitch for the majority of the game.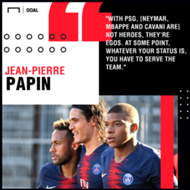 PSG president Nasser Al-Khelaifi had claimed beforehand that the club had the "best coach in the world".
But Tuchel was made to look like an irrelevance on a night on which Neymar, Kylian Mbappe and Edinson Cavani appeared to completely ignore his pleas to track back. 
The contrast between PSG's front three and Liverpool's was stark, as French legend Jean-Pierre Papin noted.
"With PSG, [Neymar, Cavani and Mbappe] are not heroes, they're egos," the former striker told Le Parisien. "At some point, whatever your status is, you have to serve the team.
"There's a difference between stars we see abroad and those we have in France. In France, we've got the impression that they're impossible to manage. 
"Why can Liverpool put their players into line and not here? When Neymar was playing with Barcelona, he defended from time to time...
"Quality is permanent; it's in the DNA of these players. There's no problem there.
"But they must come together, let everyone around them benefit from their qualities. They cannot care who the star of the team is. 
"The club's project is to win the Champions League. If the players don't have that in their head, they'll never win it."
Tuchel has, unsurprisingly, dismissed the idea that he has been brought in with the sole intention of winning the Champions League but, with domestic success taken as a given, his tenure will undoubtedly be judged by results in Europe.
All of his predecessors have ultimately been removed for failing to get PSG beyond the quarter-finals. Certainly, Unai Emery's dismissal was never in doubt after last season's tame last-16 exit at the hands of Real Madrid.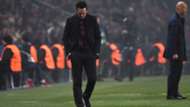 Indeed, it was after the second leg in Paris that Tuchel's representatives were first contacted by PSG officials. 
So, as first impressions go, Anfield was a shocker for Tuchel and his team. 
The decision to play centre-half Marquinhos in front of the back four was as surprising for a club of PSG's wealth as it was ineffective. 
Allowing Neymar to roam freely in a trequartista role also backfired spectacularly, with even Liverpool boss Jurgen Klopp admitting afterwards that his side had targeted and exploited the Brazilian's inability/refusal to defend.
Consequently, Tuchel's reluctance to criticise his side's strange lethargy and total lack of tactical discipline did nothing to dismiss the suspicion that he does not have the requisite power or authority to bend PSG's superstars to his will.
It has long been believed that Neymar & Co. are essentially allowed to do as they please by the club's grateful owners and it was telling that France boss Didier Deschamps jumped to Tuchel's defence by saying, "He has a high level of social skills, works meticulously, has authority and at the same time has a certain closeness to the players. But there is a lot going on in Paris; he's not a magician."
He is already a history-maker, though, with PSG having become only the second Ligue 1 side ever to win their opening eight fixtures.  
Despite their vast financial superiority over all of their domestic rivals, such a record would not have been possible were the players not united behind Tuchel. And they certainly are.
Indeed, the German needed less than a month to ingratiate himself to the PSG squad, immediately impressing with his warmth and charisma. 
"It's true that the coach has brought something new," Neymar enthused on Tuesday. "Right from the first conversation with him, I realised that he was a winner."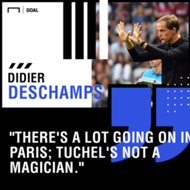 It's not just the players who have taken to Tuchel either; everyone that works at the club have been quickly won over by a man that always has time and a smile for everyone.
"This is a pretty dramatic change from Emery," a club source told L'Equipe last week. "With Tuchel, we now have a coach who is very close to the players, very tactile too. He takes people in his arms, which is appreciated by the Brazilians, in particular."
Every clique within the PSG dressing room was impressed with the fact that Tuchel redesigned and restructured the training facilities at Camp des Loges, even going so far as to enlarge the weight room so that all of the players could work together. 
There is also an element of Tuchel wanting to be able to monitor everything and everyone. He is as meticulous as they come and wants to ensure that his instructions are followed.
Contract rebel Adrien Rabiot has been calmly but firmly told to treat every training exercise with the respect it deserves.
Young players like Timothy Weah are being given more first-team opportunities, with Tuchel instructing the squad's senior players to make them feel welcome, while he has also taken time out to speak at length with veterans such as Edinson Cavani and Angel Di Maria to ensure that they feel as appreciated as superstar duo Neymar and Mbappe.
"The coach immediately came to talk to me," Di Maria explained at the weekend, "he made me understand that he was counting on me, that I was important to the team.
"I think he has come to win the Champions League and he is bringing something new to the team. I hope that this season we can all reach our best level to win the Champions League.
"Everyone expects more from Paris. We were not 100 per cent at Anfield but when we are, we have a good chance of winning, because we have Neymar, Kylian and Edi (Cavani) – the best."
Whether they have the best coach for the job remains to be seen. 
For now, though, Tuchel seems happy. Even more importantly, the players do too.