African All Stars
EXCLUSIVE: 'Echiejile's time in Super Eagles is up'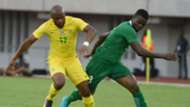 Former Nigeria international Tajudeen Disu says he expects Monaco defender, Elderson Echiejile to know when to leave national team duties as a result of the decline in his game.
Disu, who represented the country at the 1983 Fifa U20 World Cup in Mexico, thinks the game of football might be leaving the 29-year-old defender and has advised him to quit the scene for young players.
Echiejile was fingered for his shoddy display following Nigeria's disappointing 2-0 defeat to South Africa in the 2019 African Cup of Nations qualifiers and the 52-year-old has called for more competition for the vital defensive position.
"We need to look for young players, Echiejile has done well for the country," Disu told Goal.
"He has played well and I'm not saying it is finished now.
"When you play to a point, it will get to a stage where football will leave you even if you don't want to leave football.
"We've played it before to the highest level and we left it, even if you don't want to leave the game, it will leave you.
"I think that thing is telling on Echiejile, he has done well for the country.
"I will advise the coach to look for young players who can fill that vital position because if you are playing and you notice that your game is getting weak, it is time for you to go.''
In the just concluded season, Echiejile played nine times in his loan moves to Standard Liege and Sporting Gijon.