France
'Don't worry bro' – Mendy's epic response to Trump's France jabs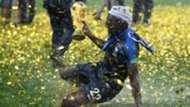 France defender Benjamin Mendy provided a brief response to a tweet from Donald Trump, reminding the United States president of the nation's recent World Cup success.
President Trump and President Emmanuel Macron have had a war of words recently. 
The French leader appeared to rebuke his counterpart in a speech condemning nationalism on Sunday during a visit to France by President Trump. 
"Patriotism is the exact opposite of nationalism. Nationalism is a betrayal of patriotism," he said on Sunday. "When we say 'our interests come first, those of others don't matter,' we erase the very thing that a nation holds most precious, that which gives it life and makes it great: its moral values."
But President Trump, never one to back away from a challenge, hit back on Tuesday on social media. 
"The problem is that Emmanuel suffers from a very low Approval Rating in France, 26%, and an unemployment rate of almost 10%," wrote the US leader, whose own approval rating in France is 9 percent. "He was just trying to get onto another subject. By the way, there is no country more Nationalist than France, very proud people-and rightfully so!"
He also shot out variation of his own campaign, saying: "MAKE FRANCE GREAT AGAIN!"
Mendy was obviously paying attention and wanted to have his say as well. Picking up on the slogan, the Manchester City and France star pointed out that France had already achieved it's own level of greatness after winning the World Cup this summer. 
The 24-year-old, who was part of France's World Cup-winning squad in Russia, replied to Trump, writing: "Don't worry bro" along with two stars, representing the nation's two championships.
Dont worry bro  https://t.co/dKBsmOjzoL

— Benjamin Mendy (@benmendy23) November 13, 2018
France claimed their second World Cup and first since 1998 with a 4-2 win over Croatia in the final in July.
President Trump's visit to France has been under plenty of scrutiny over his decision not to visit a cemetery of American soldiers while in France because of rain and the chirping between the two world leaders. 
Mendy's France can continue to assert their dominance on the international level with a win over the Netherlands on Friday, which would lock up the top spot in their Nations League group and send them into the last four of the competition, though the defender has been ruled out through injury.