Premier League
Diego Costa's dogfight to prove he is better than Lukaku and save Chelsea career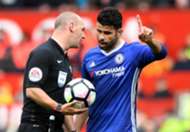 Diego Costa's early-season heroics are becoming a distant memory as he goes on his worst-ever run of goalscoring form in a blue shirt, with Chelsea already looking for other striking options in the summer.
Chelsea are expected to be one of the clubs to battle to sign the Premier League's leading goalscorer, Romelu Lukaku, from Everton in the summer. Lukaku's form of five goals in his last five games dwarfs Costa's none in five and, wherever he goes, he will be expecting to becoming his new club's leading striker as he refuses contract renewal talks on Merseyside. 
Real Madrid's Alvaro Morata is another Chelsea target ahead of the summer transfer window. Serie A and Torino's top goalscorer Andrea Belotti is also on the list which contains a host of younger names including Kasper Dolberg of Ajax and Moussa Dembele of Celtic.  
Chelsea risk PL collapse after Man Utd shocker
Meanwhile, Costa's last six games of the Premier League season and one or two in the FA Cup are not only pivotal for his team's success but his own future. A lack of goals is really starting to hurt his team's chances with Jose Mourinho's Manchester United identifying that if you stop Eden Hazard, you can stop Chelsea with Costa so badly out of form. 
The Chelsea striker seemed preoccupied in his battle with Marcos Rojo but he was distracted from his duties on the pitch, racking up only one shot that went wildly off target, while also winning the fewest duels of any player on either side at 21.7 per cent.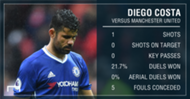 These stats have been replicated again and again since his triple-your-money offer from Tianjin Quanjian in early January - with assists and key passes drying up alongside the goals. 
His poor form has coincided with awards season and he has missed out on a PFA Player of the Year nomination, despite being the best player in England up until January.
Mourinho's masterclass on how to stop PL leaders
Antonio Conte has counted upon Costa as his main man throughout the season, but cries to see him dropped for Michy Batshuayi are getting stronger and stronger. 
However, Batshuayi has only played 113 minutes in the league for Chelsea since his £33 million move from Marseille and he doesn't appear to be trusted by his manager. It looks as though Conte will stick with Costa as the pressure ramps up on his side and the Spain international will have to repay any faith shown in him in the final month of the season. 
Whether he plays well or badly in the coming weeks, it might still be the end for Costa in west London. Interest in Costa remains high with four Chinese Super League clubs still keen to sign him when their transfer window opens on June 19.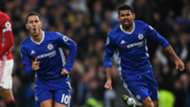 Costa could do with reminding everyone how great he is ahead of a summer that will involve contract negotiation talks at Chelsea and incoming signings to Stamford Bridge.
His contract is currently due to run out in 2019 and his bargaining position could be much worse if Chelsea miss out on glory as Costa misses his chances. 
Hazard drops huge Chelsea exit hint
He will also be thinking about his Chelsea legacy and a good run towards the end of the season will see everything that has gone before forgotten - while Costa will personally be targetting a Premier League and FA Cup double.
Tottenham are Chelsea's next opponents in the FA Cup semi-final and a goal there would quickly silence the doubters but it certainly won't be easy to score past a team that has won all seven of their last seven games. 
Unfortunately for Costa, he is under more pressure than anyone else in the final weeks of the season. Tottenham and Lukaku are breathing down his neck with glory and his future on the line.