Kedah v Pahang
Defeat to Kedah down to ineffective attackers, says Dollah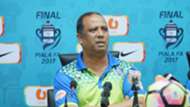 ---
BY        ZULHILMI ZAINAL       Follow on Twitter
---
Pahang head coach Dollah Salleh has blamed their 2-0 round eleven Malaysia Super League defeat to Kedah on the Elephants' attackers.
The match on Tuesday saw the debuts of Pahang's mid-season foreign signings, forwards Austin Amutu and former Canada international Issey Nakajima-Farran, as replacements for Chan Vathanaka and the injured Forkey Doe. Pahang fielded four of their foreign signings in the clash, while Kedah fielded only two; Indonesia winger Andik Vermansah and midfielder Liridon Krasniqi.
However, it was the hosts who did all the scoring in the game, with captain Baddrol Bakhtiar scoring from a free kick in the 45th minute, and Krasniqi sealing the win in the 89th minute.
Kedah vs Pahang match highlights
Speaking to the match broadcaster's pitch side commentator Stanley Bernard after the match, Dollah rued the failure of his forwards to make an impact in the game.
"Nothing worked out for us tonight and I was confounded by the way Pahang played. Our attacking players were disorganised. I expected a lot more from Amutu, Patrick (forward Patrick Cruz) and Issey, but they did not perform as well as I hoped. We let Kedah dictate the tempo and they took advantage of our weaknesses.
"I was also expecting more from Safuwan and Azam (midfielders Safuwan Baharudin and Azam Azih), but our forwards waited for the ball too much when they should have been moving around. They were simply waiting for passes in the middle, expecting Safuwan and Azam to make the deliveries. That's our main weakness tonight," said the former Malaysia head coach.
The result at the Darul Aman Stadium did not affect Pahang's place in third, but Kedah are now level with them on 18 points, in fifth place. Terengganu in fourth are also on 18, after they defeated second-placed Perak 2-0 at home on the same night. But the standings may change further, when three more round eleven encounters take place on Wednesday.