South Africa
David Nyathi: South Africa must not underestimate Nigeria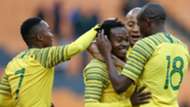 As Bafana Bafana aim for their second win over Nigeria in their 2019 Africa Cup of Nations (Afcon) qualifying campaign, David Nyathi has called for discipline against the Super Eagles.
Nyathi believes that Bafana's win over West Africans in Uyo could result in complacency for the hosts, and he explained that qualifying for the Afcon finals will restore the nation's pride.
"Well, I think that football has proven that we must never say never because we managed to bag our first win away in Nigeria. The mere fact that the two opponents will try and win the game means anything is possible for a second win," Nyathi told Goal.
"Over the past engagements, South Africa has lacked consistency and beating Nigeria away gave us some idea that we will continue to build on that win," added the former Ajax Cape Town assistant coach.
"However, we failed to do so against Libya and Seychelles and the fact that we expect to have an upper hand at home can be deceiving at times," he reflected.
"That can also bring over confidence and we can also reflect on the fact that England beat Spain in away, these are the factors we need to take into consideration," he responded.
"In saying that, I think we need to plan, concentrate, focus on winning and reaching Cameroon for the duration of 90 minutes. We can't underestimate Nigeria," said the former Orlando Pirates full-back.
When asked about the possibility of making it to Cameroon following Bafana's failure to qualify for the continental tournament since 2015, the former Kaizer Chiefs left-back said it's not an easy mandate for the hosts.
"I mean it's not an easy mandate to say beat Nigeria and qualify for Afcon. It would sound a bit better to say beat Seychelles and qualify because Nigeria are a top team, they are the toughest in our group," he continued.
"You know Nigeria are confident and they believe they can play and win anywhere (home or away). So, we need to have the same mindset," responded Nyathi.
"We can be under pressure at home, but we must just focus on the job and push the guys to play beyond themselves because the rest of the nation is waiting for them to restore that lost pride," he said.
"We can't continue to have lacklustre displays and we must show that we are rising because we have all the qualities to be in Cameroon," concluded the legend.