FA Cup
Dashing Elite FA Cup Preview: Chelsea seek the double against dangerous Arsenal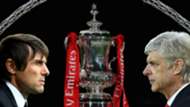 After traversing the highs and lows of the League season, where the two embarked on completely contrasting paths, Arsenal and Chelsea will fight for FA Cup glory on Saturday.
Last Sunday, a rampant Chelsea were crowned the Premier League champions. Meanwhile, Arsenal, who were in a three-way battle with Liverpool and Manchester City to seal a Champions League berth, lost out, and finished outside the top-four in the League for the first time since 1998. On Saturday, the two London rivals will clash for the FA Cup, the oldest association football competition.
It's been a horrid year for Arsene Wenger's team, who have struggled to find a foothold in the campaign that has seen them come up with frustratingly inefficient performances, as compared to their trademark fluent brand of possession football.
Yet when it comes to the FA Cup, they are the veterans of the tournament. In fact, the Gunners will be competing in Saturday's final in the attempt to secure their third title in four years.
A win would give them a record 13th FA Cup victory, putting them one ahead of arch rivals Manchester United's tally of 12. They have the pedigree, but it remains to be seen how much emotional damage the 5th-placed finish in the league has done.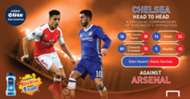 Chelsea too have enjoyed their fair share of FA Cup success in recent years, winning four titles since the new Wembley Stadium was launched 10 years ago. Interestingly, Chelsea won the last ever FA Cup final held at the venue before renovation, and were the first to win it after it was reopened. The last time Chelsea was beaten in the final was back in 2002, incidentally, by Arsenal. The Gunners in turn last lost in the final in 2001, falling 2-1 to Liverpool.
On Saturday, the clash is likely to be decided on how well Eden Hazard and Diego Costa play for Chelsea, and in what mood Mesut Ozil and Alexis Sanchez turn up for Arsenal.
The Chilean particularly, will be the player to watch out for, given that he's been Arsenal's most consistent player and has maintained his explosive energy throughout the campaign. Sanchez has been involved in 44 goals in 50 appearances for the Gunners in all competitions this season, scoring 29 and assisting 15. He also the opened the scoring against Chelsea in their 3-0 win over the Blues back in September – a result that still stands as Antonio Conte's worst defeat as Chelsea manager.
It's a match up with a lot of history, made keener by the recent battles between Wenger and former Chelsea manager Jose Mourinho. And while Chelsea will be looking to confirm their status as the kings of England, with a Cup-League double, the FA Cup might just well be salvation for under-fire Wenger and Arsenal.