South Africa
Danny Jordaan: Safa will be making an indication that they want to host the 2021 Fifa Club World Cup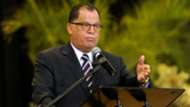 The South African Football Association (Safa) has revealed their plans to host the 2021 Fifa Club World Cup.
Danny Jordaan was recently re-elected for a second five-year term in office following a highly controversial election campaign. But while Jordaan may only be a week into his new term, the 66-year-old is already working on ways to up the profile of South African football.
Jordaan who was at the forefront of South Africa's successful 2010 Fifa World Cup bid has now expressed the association's interest in hosting the most prestigious inter-club tournament. Over the past few months there has been talk of Fifa increasing the number of participants in the Club World Cup and Jordaan is already looking at bidding for the lucrative event once the changes have been finalised.
However, Jordaan admits that he is unhappy with the proposed allocation for participating regions and will take up his concerns with Fifa boss Gianni Infantino.
"There is a proposal to move it from seven teams to 24 teams. Out of the 24 teams, Europe gets 12, Africa gets two, North America gets two, Asia gets two and South America gets six. We are clearly not happy with the allocation," Jordaan was quoted as saying by The Citizen.
"It will now be every four years. They take two finalists from the Uefa Champions League for the four years and add the four Europa League winners to make 12 for Europe. We as Africa are unhappy about the allocation of spots," he added.
"I will meet Fifa president Gianni Infantino and discuss these issues. We have fought for the allocations of spots for Africa and this can't happen now. We believe they should just take the winners from Europe, why bring losers back into it? If we can get four as Africa, it would be better," he continued.
If the changes are indeed approved, it is likely to come into effect in 2021, and Jordaan is eager to make history once again by hosting the tournament on South African soil.  
"Fifa already has a $25-billion sponsor ready for the increased Club World Cup. As hosts we will be guaranteed participation as we will have a spot. I think we will take the league winner of that year," he said.
"The increased Club World Cup is targeted to start in 2021 and we will be making an indication that we would want to host it. This would be big for this country," Jordaan concluded.
Meanwhile, Safa has announced that Ria Ledwaba, Xolile Nkomphela and Gay Mokoena as Jordaan's new vice-presidents for the next four years. 
The trio will work under Jordaan who won the presidential election in Sandton last weekend for the second successive term. 
Ms Ria Ledwaba, Xolile Nkompela & Gay Mokoena are the new SAFA Vice-Presidents pic.twitter.com/TnUOYhmoEH

— SAFA.net (@SAFA_net) June 3, 2018