United States
Sarachan given extension as search for new USMNT coach goes on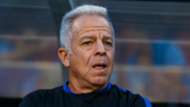 We still don't know who the next U.S. national team head coach will be, but U.S. Soccer has bought itself some time while continuing its search.
Caretaker USMNT coach Dave Sarachan has had his contract with U.S. Soccer extended through to the end of the year, and so have his assistants Matt Reis and Richie Williams, sources confirmed to Goal on Thursday.
The contract extensions were first reported by The Athletic on Tuesday.
The move keeps in place the same coaching staff that has served in an interim capacity since Bruce Arena's resignation following the U.S. team's failure to qualify for the 2018 World Cup last October. The USMNT has posted a 2-1-3 record with Sarachan in charge, with the most recent result being an impressive 1-1 draw against France. 
All three coaches were close to reaching the end of their contracts, which were set to expire at the end of June. U.S. Under-17 head coach John Hackworth is also expected to remain with the staff, though he already had a contract for the rest of 2018.
The contract extensions do not necessarily mean Sarachan will remain in charge through the end of the year, but it ensures stability in the program while U.S. Soccer pursues candidates to fill the role on a permanent basis. 
Newly appointed USMNT general manager Earnie Stewart is set to formally begin his new role on Aug. 1 but a working list of managerial candidates is already in the process of being built, which should include some coaches that have worked at the World Cup.
If a coach isn't hired quickly, Sarachan would be in place to coach the team in its next scheduled matches. The USMNT returns to action on Sept. 7 against Brazil at MetLife Stadium in New Jersey. The Americans then face Mexico in Nashville on Sept. 11.
Giving Sarachan and his staff extensions through the end of the year could also make it easier to hire a current MLS coach who may not want to take charge until their current team is done competing in the MLS playoffs.
Columbus Crew coach Gregg Berhalter and New York Red Bulls boss Jesse Marsch are among the coaches who have been identified as potential candidates. Mexican national team coach Juan Carlos Osorio, Iran national team coach Carlos Quieroz and U.S. Under-20 coach Tab Ramos have also been linked to the job as possible options.