Super League
Cosmos Limited secures a ten-point lead to clinch promotion to Division One league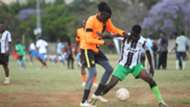 Cosmos Limited have earned promotion to the Left Foot Division One league after amassing unassailable ten points.
Cosmos managed the fete with a game in hand against NIC Bank to leave the race to claim position two and three in the division wide open. MP Shah Hospital have the best chance to finish second, behind Cosmos, if they beat HHM by a 4-0 margin.
In other Division two matches, Toyota Kenya won 2-0 against Safaricom, MP Shah drew 1-1 with Ping Limited, HHM won 1-0 against Disciples FC, Kingsways Tyres won 2-0 against All Saints Cathedral while ICJ Kenya hammered NIC Bank 7-0.
In the floodlight league, Team Chill were huge winners in Division one, beating Komarock FC 4-1 and Suswa Stars 5-0. One Africa Logistics registered mixed results, winning 3-2 against Suswa Stars before losing 4-1 to Total Disaster FC B while Muslim Stars also beat Bogani FC 5-4 in a nine goal thriller.
In Division two, CNB Wazee registered two wins, 2-0 against Memon Community and 1-0 against McKay Advocates, Strath FC drew 2-2 with Total Disaster Wazee before recovering to beat Memon Community 2-0, Oilibya Wazee thrashed Vitambii Viishe 5-0, who later lost 2-1 to Total Disaster Wazee.
In the Mombasa Social league, APM Terminals roared two two huge wins, a 4-0 thrashing of Island Sharks and a 6-1 victory over Asian Kings while Makupa Rangers recovered to beat Being Human 3-1.