Antonio Conte
'Conte will be at Chelsea next year' - Agent sees no Italy appeal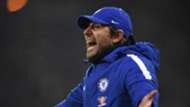 Antonio Conte has been tipped by his agent to still be in charge of Chelsea next season, with a return to the Italy national side helm holding little appeal.
A Premier League title winner during his debut campaign at Stamford Bridge, the 48-year-old has found the going a lot tougher in his second.
Uncomfortable questions have been asked amid a disjointed defence of the English top-flight crown and reports of dressing room unrest in west London.
Conte has, however, remained committed to his post in public and Federico Pastorello believes he will honour the three-year contract signed upon his arrival in England back in the summer of 2016.
He told Rai Sport on the exit speculation and talk of a possible second stint in charge of the Azzurri: "Conte has already been through that experience and prefers to work with the squad on a daily basis.
"I see him at Chelsea next year, as he has a contract valid for another season-and-a-half and doesn't like to leave things unfinished."
Conte has faced regular questioning regarding his future of late, with back-to-back defeats against Bournemouth and Watford sparking talk that he may not see out the season.
The Blues have, however, offered a positive response to those setbacks in the form of comfortable 3-0 and 4-0 victories over West Brom and Hull City in the Premier League and FA Cup respectively.
Conte told reporters ahead of the first of those fixtures: "I'm not thinking for one moment about the possibility to go away from this club.
"I repeat, my commitment is totally for this club and we are trying to do our best. But as you know very well that a lot of time – I don't agree – but a lot of time the manager or coach depends on the results."