Premier League
Conte: Everyone at Chelsea will earn a big bonus for a double win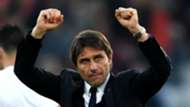 Antonio Conte has confirmed that he and his Chelsea players will earn an extra bonus if they win the Premier League and FA Cup this season.
Chelsea are four points clear with four games to go in the league, while they also face an FA Cup final against Arsenal after beating Tottenham in the semi-final a fortnight ago. 
Real have so much more than MSN
Conte was asked whether he would get anything from Chelsea if he brought glory back to Stamford Bridge, such as a fancy car, but he said that him and his staff would get a bonus with a possible double up for grabs. 
"A Ferrari? First of all, I hope to win the title with the players and the club," Conte said at a news conference at Cobham Training Centre. "This is the most important thing. For me, the present, the gift, is not important. It's important to reach this target for myself.
"For myself. For my work. For my family. It's very important, this. I'm not waiting [for a Ferrari]. I think in every contract of a single player and coach, there is a bonus if you are able to reach a target, there is a bonus, no?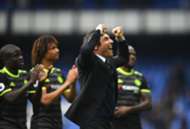 "A bonus. Sometimes it's a great bonus. Sometimes it's a medium or a low bonus. It depends on the difficulty of the target."
Conte would be the fourth Italian manager to win the Premier League if he can see of the challenge of Mauricio Pochettino's Tottenham. Three Italians have won the league title since the last English manager, Howard Wilkinson, did it in 1992.

Pep: I want Man Utd to win Europa League
Conte doesn't believe that Italians make better managers than English professionals but he admits to having supported both Carlo Ancelotti and Claudio Ranieri in their league winning campaigns with Chelsea and Leicester in years gone by. 
"Yes. I think it's logical to be proud [of Italian coaches]," Conte added. "Last season I supported a lot Claudio Ranieri to win the title. In Italy we celebrated this win in a great way. I think Claudio deserved this for his career.
"Yes, I think it's right to have joy if an Italian manager wins the title in England, but also for example with Carlo Ancelotti in Germany. We have another coach who I know very well, , who is winning in Russia.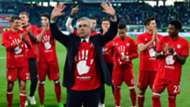 "Last season he worked with me as an assistant coach, and now he's winning the title in Russia. It's great. Every single person must have joy for this type of result."
"Every coach is different. Every coach is different to other coaches. For sure, in England, I looked at the past and saw many Italian managers won the title in England. I think it's great for us, it's great for our school.
RUMOURS: Bale to Chelsea or Bayern
"But I think it's not important, the country where you arrive. In England now there are top managers from different countries, and also I think we have really good English managers here."
Chelsea have officially qualified for the Champions League, which was the first target that Roman Abramovich set to his manager upon hiring him last year.
Conte thinks that Chelsea are back where they belong and hinted he is supporting his old club Juventus in his side's absence form the competition.
"Next season we play the Champions League, and it's great for us," he continued. "Great for us. A team like Chelsea, the Champions League must be Chelsea's home, and to try and play in it every season.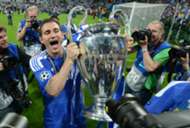 "It won't be easy in England, because I think in this league you have six teams very strong, very strong. It won't be easy, the present and the future, to play the Champions League.
"But for sure now it's important to finish this season and then find the right solution, to prepare our team to face next season. I think Juventus are an Italian team, so I'm very proud about this. I wish the best for them."