South Africa
COMMENT: Bafana Bafana haven't improved under Stuart Baxter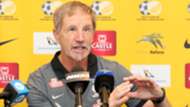 Bafana Bafana once again suffered another low point in their history as they failed to advance to the Cosafa Cup semi-finals despite being strong favourites against minnows Madagascar.
While take nothing away from the islanders who put in a resolute display, the South African national team would be deeply hurt and perhaps embarrassed at the current state of affairs.
How far has the once mighty fallen that Bafana, ranked 72nd in the world were not only held by a side ranked 42 places lower in the rankings but with a population of under 24 million people.
This is the latest setback since Bafana Bafana missed out on a place at the Fifa World Cup in Russia. This does beg the question on whether or not there has been any improvement under head coach Stuart Baxter.
Baxter's reign may have started off promisingly, but the flame has severely dwindled ever since that impressive victory over Nigeria in an African Cup of Nations qualifier.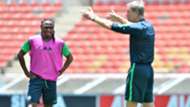 While there have been some positives since Baxter took over, truth be told that Baxter's record is certainly not any better than he predecessor Shakes Mashaba.
The former Bafana coach may have been a controversial figure with many critics, what can't be denied is his ability to get the results when it mattered the most.
Baxter on the other end in his second stint with the national team, has once again failed to qualify a Bafana side for the World Cup and has only been able to win eight of his last 17 matches which is a winning percetage of 47. This is heavily contrasting when considered that the national team went 16 games without defeat prior to him taking over.
Worryingly, though is the type of teams that Bafana have lost to.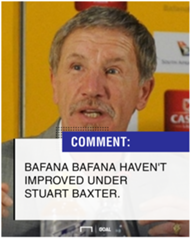 Bafana have suffered defeat to the likes of Tanzania, Cape Verde and Madagascar among others, but these are the teams that they need to be beating if they are to return to the top. 
Baxter can be credited for giving some of the younger players an opportunity, but as the Cosafa Cup has shown there is still a very long way to go.
This can be seen as a step backwards when looking at the 64-year-old's initial stint with Bafana which only lasted 611 days. At the time, he was in charge of 23 games, and managed a mere 10 wins and it was that kind of record which saw him part ways with Bafana back in 2005. 
If things don't turn around soon, the writing could again be on the wall for the former Kaizer Chiefs mentor.