Nigeria U17
Coach Bala Nikyu questions Cameroon players age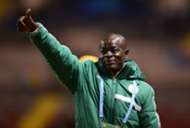 Nigeria U17 women head coach Bala Nikyu is not troubled by his side's first leg 2-2 draw with their Cameroonian counterparts at the Samuel Ogbemudia Stadium.
The Flamingos had edged past Ethiopia on away goal rule to progress and needed a big win to boost their qualification hopes, but only escaped defeat against the Baby Lionesses in Benin City.
And Nikyu blamed lack of quality preparation and bad calls from match officials for their inability to win, but he assures they would work hard to win in Yaoundé.
"The match has been played and drawn but I'm not disappointed in the girls," Nikyu told Goal.
"If Cameroon could use players that play in the U20s and bring them back to the U17s, then I don't have any regret in the result.
"I have the belief that in the next two weeks we will come out differently and beat them in Cameroon. We scored two goals as a result of good efforts.
"But the unfortunate part is that we had good opportunities of getting more goals, which some of them we lost and some the referee denied us but that's part of the game.
"It is left for us to go and think of the next thing to do so that when we get to Cameroon we will do better. The sizes of the Cameroonians were not my problem because it does not play football. If the referee had opened the game we would have defeated them.
"When you talk of making good accurate passes and ball handling, you are taking of a team that had spent one to two years together. The team is not up to two months, and then as at when we played Ethiopia, we were only 10 to 14 days old. We drew Ethiopia, who were almost two-year together.
"Understanding and get used to the basic skills and techniques of the game is a gradual process and takes a long time for the women. If it were U10 boys, they could grab within two weeks."
As it stands, Nikyu needs a win or a 3-3 draw at the Ahmadou Ahidjo Stadium to secure one of the qualification tickets to the Fifa U17 Women's World Cup in Uruguay later this year.