Gareth Bale
Zidane: No regrets over starting Bale in Clasico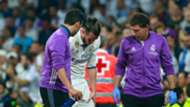 Real Madrid coach Zinedine Zidane is adamant he does not regret naming Gareth Bale in his starting XI for Sunday's 3-2 defeat against Barcelona regardless of the Wales international's renewed injury problems.
Real Madrid cannot wait for Messi to retire
The 27-year-old missed Madrid's recent clashes with Sporting Gijon and Bayern Munich due to a muscular problem, but somewhat surprisingly featured from the start in this weekend's Clasico.
Bale did not last long, though, as Zidane was forced to replace the winger shortly before half-time following what appeared to be a recurrence of a calf injury.
The attacker's latest fitness problems could see him miss the decisive stages of the 2016-17 campaign, but Zidane insists it was the right decision to select him.
"Gareth said he was fine and eager to play. I do not regret it," said the Frenchman.
Ramos snipes at Pique after red card
"I am disappointed for him because he wanted to play and this is something we cannot control.
"Monday we will have a look and see what injury he has and I hope he will not be out long."
The loss – sealed by Lionel Messi's last-gasp strike – saw Madrid slip to second, though they have a game in hand on new leaders Barca.