Liga MX
Chivas lacking more than Pulido: Five Thoughts from Liga MX Jornada 11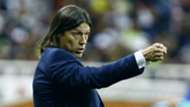 Liga MX was what it needed to be this week. After wisely postponing the weekend matches, Liga MX returned Tuesday and provided a pleasant distraction from a country weary after being rocked by a pair of earthquakes that resulted in hundreds losing their lives.
Between players raising their fists before matches in solidarity with those affected and those continuing relief efforts to clubs donating significant sums, teams are playing their part. So too are those around the game with the joint effort between the league's television partners resulting not only in thrilling TV but also in more than $1 million going toward relief efforts in Mexico and also to Puerto Rico and the United States after hurricanes.
The relief of matches returning was short-lived for fans of Mexico's grandes. The four biggest teams historically all fell to defeat during the midweek round. Let's take a look at what went wrong for a few of them and also discuss a few more stories that emerged in Jornada 11: 
---
Chivas need more than just Pulido
---

Chivas were showing signs of climbing the table and getting back into the playoff spots to defend their title. That still could happen after Tuesday's 2-1 defeat to Lobos BUAP. That kind of defeat, though, should not happen.
They were beaten by an absolute golzao that overshadowed the stunner Rodolfo Pizarro had hit earlier in the match. Amaury Escoto launched what may be an early candidate for next season's Puskas with this overhead kick past Rodolfo Cota.
#NoTeLoPierdas
GLAAAAAAAAZO de Amaury Escoto@Chivas 1-2 @LobosBuapMX #J11AP2017 #LIGABancomerMX
 #SienteTuLiga ⚽ #FuerzaMexico 🇲🇽 pic.twitter.com/En1AbkcY6b

— LIGA Bancomer MX (@LIGABancomerMX) September 27, 2017
The issue for Chivas was that Lobos even were in the position to go ahead. The home side, yet to win in Estadio Chivas in the Apertura, came out flatter than flat against a team missing its best player in Julian Quinones because of off-field issues between the player and club.
"In the first half, apart from being much worse than the opponent, we were very far from the level this team once showed," Chivas coach Matias Almeyda said after the match. "That's to say we were imprecise, without dynamic play, very erratic. That's why they were better than us. I think the opponent could've scored another goal on us in the first half."
The return of forward Alan Pulido should help Chivas' attack in a big way. At the back, Jair Pereira getting fit should help. The problems at the moment look to be deeper than simply individual players. The collective must be working to get three needed points from minute one. Almeyda has done an excellent job since arriving in Guadalajara, but his work this season has left room for improvement.
The best news for Lobos BUAP is not getting three points on the road or being in the playoff positions but rather reports the team is set to sign a television contract with Televisa. Already at a disadvantage compared to more established teams, the inability to get on the air hamstrung the team financially and also limited their exposure. Perhaps things around the club will have a looser feeling and standout players like Julian Quinones and Luis Quinones won't be as likely to fall out with the team as they've done this tournament.
---
Leon attack can turn it on
---

We listed America's visit to Leon as our game of the week, and it didn't disappoint. Well, maybe the first half did. The teams went into the locker room still knotted at zero before a wild second half that saw Leon score twice in the final 10 minutes, including this beautiful goal.
GL de Club León Oficial De taquito en el área chica, Darío Burbano logra la voltereta en el marcador al poner el 2-1 sobre Club América #J11AP2017 LIGA Bancomer MX  #SienteTuLiga  #FuerzaMexico 🇲🇽 #AbrazadosPorElFutbol

Posted by LIGA Bancomer MX on Wednesday, September 27, 2017
But if you watched the game live or were paying attention to the clip above, you'll see there were two balls on the field when the winning goal was scored. Club America coach Miguel Herrera wasted no time after the final whistle, charging out to confront referee Diego Montano. He has a point. Generally you don't see play continue when there is more than one ball on the field. The whole idea is to just have the one. On the other hand, it's not like any of Herrera's players were confused about which ball was being used. They were all defending the play taking place and couldn't stop Hernan Burbano's winner.
The lesson from the wild close to the match, if there is one, is Leon's attack can absolutely turn it on and fly when it wants to and also when it's playing in front of a home crowd spurring it on.
"The team overcame adversity. In a very closed game, it found a goal and was able to turn the corner with a good style of play, with a lot of character and pushed on by the fans," Leon coach Gustavo Diaz said after the game. "That's what we talked about when we got here, was trying to make a link with the fans because they're like another player. This game would've been much tougher to win if we'd been playing on the road."
Elias Hernandez, who was credited with the assist on both goals, used his speed to get free while moving around various parts of the field and Mauro Boselli is finding the back of the net again after a slow start to the tournament. The Argentine wasn't the only one, but if Leon can play with the kind of desire it had at the end of Wednesday's contest, the playoffs are a very realistic goal.
---
Guzman the key to Pachuca's success
---

Pachuca played the kind of game it should play Wednesday, taking advantage of Cruz Azul on the counter-attack and coming away with a 4-0 victory. Tuzos added two goals late to make the scoreline look a bit uglier than the game was but were in control of the match. Diego Alonso's men were comfortable without the ball and lethal with it, using their speed to get forward for the what puzzingly seems like the first time this season. A lot of the success is down to Victor Guzman embracing and excelling in his role as the playmaker for Pachuca.
While Guzman scored twice, a missed chance may be the best illustration of how he spearheads the attack. After winning the ball back in the 53rd minute with a 2-0 lead, Pachuca surged forward. Guzman noticed Cruz Azul's right back was slow to get back and played the ball into space for Edson Puch. The left winger played the ball back to Guzman on the edge of the six-yard box with Guzman unable to direct his shot on goal.
He atoned for that miss later, scoring a beautiful goal late in the second half:
GL de Club Pachuca Tuzos Víctor Guzmán escapa por el costado derecho del campo, entra al área con pelota controlada y tras dos amagues define para el 3-0 ante CRUZ AZUL FUTBOL CLUB A.C. #J11AP2017 LIGA Bancomer MX  #SienteTuLiga  #FuerzaMexico #AbrazadosPorElFutbol

Posted by LIGA Bancomer MX on Wednesday, September 27, 2017
 The individual skills are part of the reason the Guadalajara native may get a national team call-up sooner rather than later. Pachuca needs him to be the player he was on the first goal and on the missed opportunity early in the second half (though it obviously would be better if he finished off those chances) to make a Liguilla run.
---
Tigres will be tested
---

There was #LigaMXAfterDark, but Tigres' late-night visit to Tijuana with a 9:15 p.m. local kickoff time didn't get as weird as most late-night trips to TJ do. We can ascertain, however, that Tigres weren't celebrating with a caguama at El Dandy del Sur after their 1-0 win.
Tigres escaped Tijuana with a victory and the game leaves the feeling that this is a team that will be challenged again. Tijuana mounted a challenge of its own, putting seven shots on goal but watching goalkeeper Nahuel Guzman deny them. After the match, Xolos coach Eduardo Coudet said his team had the better chances, and you have to agree with him. But Tigres still left town with all three points.
"We played against a great opponent. We had the better chances. The opponent didn't let us off the hook. They had three chances, one ended up in the net," Coudet said. "They took the three points with very little. The chances we had just didn't want to go in."
This was the first clean sheet for Tigres since Aug. 19 with their goal-scoring abilities able to serve as a mask for defensive deficiencies. Tijuana won't be the last team to test Tigres, a team that is rolling along but has plenty to improve before any type of celebrations begin.
---
Everyone's calendar getting crowded
---

Monterrey and Santos were hoping to squeeze in a game Wednesday but the waterlogged pitch at Estadio BBVA Bancomer forced the northern rivals into another postponed games. The teams got about 12 minutes in before officials pointed out the obvious - that there was no way anything actually resembling a match would be played in those conditions.
"Thanks for your applause. It's a shame the game couldn't be played," tweeted Santos goalkeeper Jonathan Orozco, who for years was Monterrey's No. 1. "We'll see you on another date."
Not only do both teams have this match and the Round 10 games to find place for, both also are still alive in Copa MX play. There's a fixed amount of time (and players for each squad) and only so much time to get the games in.
Matches still will be played. Last tournament also saw a round end up with a surprise postponement after the referee strike forced Round 10 to be moved, and we still ended up with an entertaining close to the season and a closely contested Liguilla. The Apertura will be no different, but depth, an already critical factor, will become an enormous luxury for teams able to reach into their reserves and find players who can fill their roles.
---
Goal of the Midweek
---
#NoTeLoPierdas
G⚽⚽⚽LAAAAAAAAZO de Amaury Escoto@Chivas 1-2 @LobosBuapMX #J11AP2017 #LIGABancomerMX
⚽ #SienteTuLiga ⚽ #FuerzaMexico 🇲🇽 pic.twitter.com/En1AbkcY6b

— LIGA Bancomer MX (@LIGABancomerMX) September 27, 2017
---
Midweek Whimsy
---
Martín Rodríguez le acaba de dar un pase al árbitro pensando que era un compañero de equipo @Cruz_Azul_FC pic.twitter.com/nsrcM0nEbS

— felipe ibáñez (@FelipeIbanezB) September 28, 2017
That is not your teammate giving you an option, Martin Rodriguez. That is the referee.