West Ham United
David Moyes: Javier Hernandez still a week or two away from return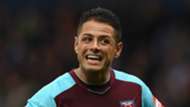 Javier "Chicharito" Hernandez is still a week or two away from returning to action for West Ham, according to manager David Moyes. 
The 29-year-old picked up a hamstring injury in El Tri's entertaining 3-3 draw with Belgium over the international break. 
Hernandez is West Ham's leading scorer on the season with four goals, and the club may be forced to play without him for a couple of weeks, with games against Watford on Sunday and Leicester City next Friday both in doubt. 
"I think everyone knows he [Chicharito] has got a hamstring injury," Moyes said in a press conference. "It could take a week, it could take two weeks. Because of the level it's at we're not sure.
"I think it's only when we get him back running again we will know if it's going to be a bit longer or if it's going to be fine."
Following the next two matches the Hammers face a brutal run of matches before Christmas, with games against Manchester City, Chelsea and Everton, along with two fixtures against Arsenal, coming over the next month. 
Saturday's match against Watford will be first for West Ham with Moyes in charge.