Ross Barkley
Chelsea's Hamsik? Brilliant Barkley reborn under Sarri as he puts Southampton to the sword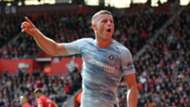 Earlier this week, Ross Barkley hailed Maurizio Sarri for the immediate influence he has had in rejuvenating the young Englishman's career.
Barkley's career had gone off the tracks at Everton - partly due to injuries - prior to his January move to Chelsea and he struggled to get a look-in during the second half of last season under Antonio Conte.
But under new manager Sarri, Barkley is becoming a new player - something the 24-year-old underlined.
"From a technical point of view, he has made me a better player," said Barkley ahead of the 3-0 win over Southampton where a goal and assist helped Chelsea to maintain their unbeaten record going into the international break.
"I've thought about it and I believe if I did have that type of approach from a coach when I was younger then maybe I would have improved a lot more.
"I have played a big role in the Chelsea side and I feel like my performances have showed that I am back in that routine."
Barkley certainly is back in the routine. No Englishman had produced a goal and an assist in a game since Frank Lampard in 2013, and Barkley laid down a marker for a midfield spot having been chosen ahead of Mateo Kovacic at St Mary's Stadium.
The Liverpudlian is nicknamed John Cena - due to his likeness to the WWE superstar - and he is attempting to produce his own storyline that the wrestling show's writers would be proud of. His rebirth at Chelsea has also sparked a recall from England manager Gareth Southgate.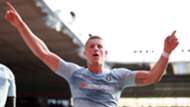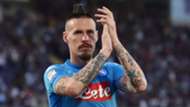 Sarri has started wonderfully well at Stamford Bridge but he has been lacking a midfielder who can provide both goals and assists in the final third.
Marek Hamsik did this job for his Napoli side and now Barkley, who watched tapes of the Serie A club over the summer, is hoping to be that man for Chelsea. As he has admitted himself, he is clearly learning a lot from Sarri.
"Potentially he is a great player," Sarri told a news conference.
"He has quality, very important ones in the physical and technical [aspects], now he is improving in the tactical point of view. 
"He can be a very important player in England and for the national team. 
"I am very happy with the goal and assist for him. I am very happy with him, he is improving all the time.
"I spoke to him from the first day that he has great physical and technical quality. Now he has improved."
Of course, Barkley has to prove his consistency now but there certainly seem to be encouraging times ahead for a player who was once regarded as England's most promising young talent as a teenager at Everton.
Eden Hazard is still Chelsea's superstar and proved as much when breaking the deadlock from Barkley's pass. This was his eighth goal for the season in all competitions, the same amount as Pedro, Willian, Olivier Giroud and Alvaro Morata (who scored late on to make it two goals in four days) combined.
The over-reliance on Hazard is perhaps the main concern Chelsea have over a realistic title challenge. Sarri's other players – particularly further down the pitch - need to start contributing goals regularly.
Kovacic and N'Golo Kante do not have goals in their blood, while Jorginho will never make a touch in the opposition's box due to his remit as a deep-lying playmaker. Barkley has thrown his hat into the ring to be Chelsea's Hamsik.