Chelsea
Chelsea keeper Courtois feared freak basketball accident would end his season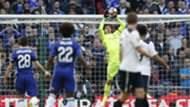 Thibaut Courtois admits he feared an untimely injury would end his season and rule him out of Chelsea's Premier League and FA Cup trophy bids.
The Blues goalkeeper damaged his ankle at a basketball promotional event, with the knock keeping him out of a 2-0 defeat to Manchester United.
Conte: No need for Hazard to be selfish
He was, however, to return to the starting line-up for a FA Cup semi-final clash with Tottenham, with Antonio Conte eager to ensure that he did not go back-to-back fixtures without his first-choice shot-stopper.
Courtois was beaten on two occasions but still helped to secure a 4-2 victory to ease some of the discomfort he was feeling and offer welcome relief at the end of a testing spell that could have been much worse.
He told reporters: "I was afraid that the season was over. Fortunately, it was less bad.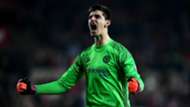 "I have to say thank you to Chelsea's medical staff to get me fit. I do not think many people with a torn ligament already play after a week and a half."
The Belgium international added on his showing against Spurs: "When I had to kick the ball against Spurs, there was a bit (of pain). Obviously I had to stand on my right foot which was not easy at times.
"But when you play with adrenaline, you feel good and you forget. I will get more treatment like I have for the last week - where I was with the physios from 10am in the morning till 5pm in the evening at Cobham. 
"Tuesday won't be a problem. I'm getting better every day, so hopefully soon I will be able to play without a strap (on the ankle)."
Chelsea face Southampton in midweek seeking to cement their standing at the top of the Premier League table.
Marcos Alonso will be another hoping to be involved in that tie, with the Spaniard having also returned to action on cup duty after sitting out a reversal at Old Trafford through illness.
He said on his struggles in Manchester which forced him to pull out of the game during the warm-up: "I was throwing up the night before and wasn't feeling very good. I tried to do the warm-up the following day but I was about to faint on the pitch.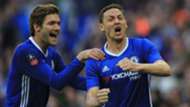 "I did not want to ask for a substitution after five minutes, so I pulled out. I watched the first half in the directors' box but I had to go to the team coach to have a lie down on my own. I fell asleep (and missed the second half) as I was feeling so bad.
"I took a couple of days off and did not eat a lot. But I felt good against Spurs.
A lifetime of being ignored over for Kante
"I was a little bit tired in the first part of the game because it had been two weeks since I'd last played, but I'm ready for Tuesday."
Chelsea have seen their lead at the Premier League summit trimmed to four points by Tottenham.
There still 18 left to play for, with the Blues six games away from potentially returning the top-flight crown to west London.