Gareth Bale
'Real Madrid would want Bale if he played for Liverpool!'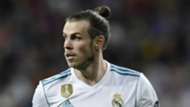 Gareth Bale would be a target for Real Madrid if he played for Liverpool, according to Los Blancos defender Nacho Fernandez.
Bale has been at the centre of something of a media storm this season, with the Wales international plagued by injury problems, and criticised by former Real coach Jorge Valdano, who insisted that "nothing Bale does is worth €100 million (£87m)".
The former Tottenham and Southampton winger even refused to rule out a move to Bayern Munich earlier this season, though Zinedine Zidane has repeatedly maintained that he does not have an issue with Bale.
Bale has still had a productive season, on all accounts, scoring 19 goals in 38 appearances in all competitions, including five strikes in his last five Liga appearances.
It remains to be seen if Zidane will select Bale for his starting XI in the Champions League final, with the Spanish giants set to take on the Reds in Kiev this weekend, though Nacho insists that Real would be pursuing the 28-year-old's signature if he was on the books at Anfield.
"For sure! I think he's an extraordinary player," Nacho told Goal when asked about the hypothetical situation. "I understand that in football everything is discussed and the best, the worst are classified... But I am sure that if Bale were in another team, Real Madrid would like to sign him."
Nacho, himself, has confirmed that Liverpool were interested in securing his signature two years ago, though he maintains that he did not have any contact with Reds manager Jurgen Klopp.

"I never really got to talk to Klopp," he added. "I think he's a spectacular coach. It is true that there were contacts with Liverpool, but my idea was to stay in the club and it was the best decision of all. "