Liverpool
Chameleon Wijnaldum the reason why £40m Fabinho is still waiting for his Liverpool debut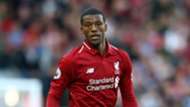 Mo Salah's scoring, Alisson Becker's settling and Virgil van Dijk is cruising.
But amid Liverpool's perfect start to the new Premier League campaign it is another, less-heralded star who is shining.
Gini Wijnaldum is not the type of player to generate headlines anymore, with his days as a free-scoring attacking midfielder seemingly behind him. But in Jurgen Klopp's new-look Reds side, stylish and solid, the Dutchman remains a key figure.
A surprise to some, perhaps. Wijnaldum was one of the players tipped to suffer from Liverpool's summer spending, which saw them splash out around £90 million ($115m) on two high-calibre midfield men.
But while Naby Keita has slotted in seamlessly, the other new recruit, Fabinho, has been made to wait. Wijnaldum's performances in the No.6 role mean the Brazilian has yet to make his Reds debut. The £40m ($51m) man has not even been on the bench for the Reds' last two games.
No big deal, Klopp says, and certainly not something for supporters to concern themselves over. Fabinho, he has always stated, will need time to adjust to the intensity of playing (and training) for Liverpool. His omission, rather, is a reflection of Wijnaldum and his chameleon-like qualities.
"Gini can switch from one mindset to the other and that is pretty good for us," Klopp said following last weekend's win over Brighton.
"If you ask me he was brilliant in pre-season as the eight. He was good as the six but brilliant as the eight. That's why we never had any doubts about him. He can play both.
"It was always clear he would be in the mix for the six position. He has worked hard and plays it very well. He's a good footballer, but it is important that you have the kind of mindset that you can cool yourself down in different situations.
"It's important [as a No.6] that you don't follow the ball or offer runs in behind when we have enough players to do that. We need a few reasonable persons on the pitch, if you want, and Gini has shown he can switch between both."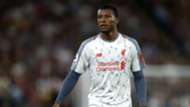 Wijnaldum was, by some distance, Liverpool's most impressive performer against Brighton, a game in which Klopp's much-vaunted front three found life tough against a packed, well-organised defensive unit.
He completed all but one of his 76 passes, not giving the ball away until the 80th minute of the game, and put in as many tackles as any Liverpool player on the field. Metronomic, disciplined and smart, his was a display to admire.
To prove a point, too. Liverpool were surprised over the summer to see reports linking the 27-year-old with a move away from Anfield.
Fenerbahce were the supposed suitors, though the idea of selling Wijnaldum was never realistically considered. Club sources believe the stories to be a case of 2+2 = 5. Fenerbahce's coach is Phillip Cocu, Wijnaldum's former boss at PSV Eindhoven. The pair, Goal understands, remain in contact.
From the player's point of view, the idea of leaving was not one to entertain. Liverpool's midfield may be competitive this season, with the arrivals of Fabinho and Keita supplemented by Adam Lallana's return to fitness and James Milner's one-man fight against Father Time, but good players back themselves.
In two years on Merseyside, Wijnaldum has shown an ability to adapt to the needs of the team, and of his manager. He uses the ball well, holds his position, defends well in one-v-one situations, and brings discipline and robustness.
Only two players – Salah and Roberto Firmino - played more games for the Reds last season, while only one managed more appearances in 2016/17 – and that was Divock Origi, who played mostly as a substitute.
In all, Wijnaldum has started 80 of a possible 106 games since joining from Newcastle, making a further 15 appearances from the bench.
Klopp doesn't have favourites, necessarily, but he has his trusted lieutenants, and the Dutchman is one. His form presently is keeping out not only Fabinho but Jordan Henderson, the club captain, too.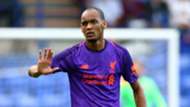 We can expect that to change, of course. Henderson's substitute appearances this season have been impactful, and Fabinho's time will come. Alex Oxlade-Chamberlain and Andy Robertson have shown the benefits of a softly-softly approach with new signings.
Lallana, too, remains a Klopp favourite if fit, and with Liverpool aiming to go deep in four competitions this season, opportunities for rest and rotation should be plentiful. Last season that was seldom the case.
And so to Leicester this weekend.
Liverpool have not won their opening four league games since the 1990/91 season (when they won their first eight), but will head to the King Power Stadium with confidence.
The absence of Jamie Vardy, who has scored against them in each of his last five outings, is a welcome boost. Kelechi Iheanacho, fine footballer though he is, will not bring the same fear factor.
Four from four, then, is the aim. Klopp's men have the air of contenders about them, but proving it, week after week, is another matter. Complacency, the manager says, will not be permitted.
He has named an unchanged side in each of Liverpool's first three games, but could be tempted to freshen things up at Leicester.
Wijnaldum, though, will almost certainly be in there. Not flashy, not spectacular, not headline-grabbing. Just as important as ever to the Liverpool cause. He'll take some shifting.