Brazil
CBGT postcards: Football is Australia's sport of the future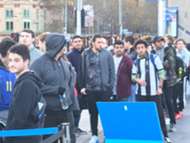 ---
OPINION
---
From Belo Horizonte to Beijing, taxi drivers across the globe will share their thoughts about Neymar and the Brazilian national team.
But when I put the question to Adam Luck here in Melbourne, I was shocked to hear that he had no idea who the Brazil and Barcelona star was.
---

READ MORE:


WATCH: How Tite transformed Brazil  | 5 Talking points from the MCG | IN STATS: Brazil 0-1 Argentina
---
It provided a succinct illustration of much of what I've found here since arriving in Australia with Chevrolet Brasil Global Tour last week, at least it is of what I've encountered from locals over 35-years-old.
Take a quick poll of the younger generation, however, and Australians bear a closer resemblance to football fans around the globe.
The sport is still not quite as popular here as in many other countries, but there is a growing population who share the same obsession with the game that one would expect to find in Rio de Janeiro.
These lucky fans found #CBGT and won FREE tickets to #BRAvARG #CBGTMelbourne pic.twitter.com/07RVaN8xrx

— Brasil Global Tour (@BGT_ENG) June 9, 2017
"Football competes for exposure with AFL, rugby and cricket, but most children here play football more than any other sport," said local journalist Sacha Pisani.
"The media often criticises football here, and there is a notable agenda of journalists working on other sports who like to give football a bad name, but the truth is that the sport is growing ever year."
It certainly is, and England's Premier League in particular is more popular than ever. It is far and away the favourite competition among local football fanatics, and is the only league that is televised regularly.
"One thing I remember well was when Brazil played against Argentina for the qualifiers and we went out looking for some pubs to watch the game, but nobody even seemed to know it was taking place," said Victor Pajaro, a Brazilian who has been living in Australia since August 2016.
"There is plenty of room here to watch, Australia obviously has an English influence, and the games they watch on TV are the English league, despite the contrasting time zones. They follow it more closely because that is what they see on TV."
While football spread around the rest of the world with British expats, the sport arrived in Australia when it was still in its infancy, prior to the official laws of the game being published, and has understandably remained a niche pursuit.
But contemporary English football is making a huge impression, and there was no better demonstration of the game's growth than the 95,000 spectators who packed the Melbourne Cricket Ground when the Chevrolet Brasil Global Tour opened this month with Brazil vs Argentina on Friday.
Official MCG attendance tonight: 95,569. #BRAvARG pic.twitter.com/HKJrnUyUma

— Melb Cricket Ground (@MCG) 9 June 2017
Liverpool appear to be the most popular club among the local fanatics who have gathered outside the Brazil team's hotel this month, with many of the youngsters desperate to capture a glimpse of Philippe Coutinho.
"I love Coutinho, he's my favourite Liverpool player now. I love watching his skills in the Premier League. It's a dream for me to meet him," said one fan desperate to see his idol.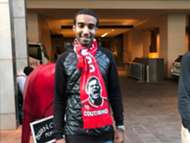 In May, Liverpool played a friendly against Sidney FC in front of nearly 95,000 fans. More than 93,000 watched the Australia Olympics team's clash with Italy in 2000, 84,000 watched the Socceroos in a 2002 FIFA World Cup qualifier against Uruguay in 2001, while 99,382 flocked to the MCG for Real Madrid's clash with Manchester City in the International Champions Cup 2015. 
This was not the first time for the Reds in Australian territory, in 2015 they also attracted a crowd on their way through Oceania.
Football is a growing sport in Australia, and the Chevrolet Brasil Global Tour this month has certainly illustrated that the world's game is only getting bigger Down Under.