CAF Confederation Cup
Caf Confederation Cup: Kariobangi Sharks 0-0 Asante Kotoko: Five things we learnt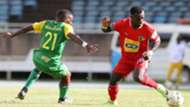 On Saturday, Kenyan side Kariobangi Sharks and Ghanaian fold Asante Kotoko settled for a goalless draw in their 2018-19 Caf Confederation Cup first round first leg tie at the Moi International Sports Centre in Kasarani, Nairobi. Below are some observations ahead of the return fixture in seven days:
Sharks are no threat
For a home side, a lot more was expected from the Kenyans on Saturday, considering the known impact of host statuses in the African game. But for the most part, they looked like the away aside, failing to take the game to their opponents nor showing any intention of wanting to kill off the challenge before the dreaded away trip in a week. Sharks did not show any danger at home and certainly did not appear like a team looking to throw up a fight in the second leg. There was just no trouble about their 'ordinary' team.
Akonnor's side not tactically and physically ready for Africa
Charles 'CK' Akonnor only took up Kotoko's coaching job in October and with his Confederation Cup squad containing about 10 new signings, there was always going to be a problem about the tactical readiness of his team for the competition. On Saturday, Kotoko showed little of team effort and more of individual play. That the club have not played a competitive game since June means even physically, there was always going to be some huge fitness and conditioning deficit. That was also apparent on Saturday. Certainly, Akonnor has his job cut out with regards to what he needs to do to get far in Africa this year.
Songne Yacouba too
Burkinabe attacker Songne Yacouba has been the star of the Porcupine Warriors since joining the club earlier this year. For most people, how far Kotoko will go in Africa will depend on the former Stade Malien man. It was, therefore, a big blow when he had to spend weeks on the sidelines after falling ill while on holidays back home. His return to training in the final week of November meant he was never really going to be fully fit for the December 15 fixture.
Akonnor confirmed the striker's fitness deficit before the game, and it was not surprising that he only joined the action in the second half. His lack of match fitness and sharpness was so telling, even if most people still found him more impactful than Guinean striker Naby Laye Keita, whom he replaced. If Kotoko are really ambitious then Yacouba's fitness must rank among their highest priorities.
Baba Yara will have a massive turnout
A series of unfriendly exchanges between Sharks and Kotoko over alleged 'mistreatment' of the latter means the atmosphere back home in Kumasi is already mightily charged in awaiting of the return fixture. Kotoko's accusations have done nothing but induce burning rage among their fans, an unfortunate situation that could breed some hostilities during the second leg. What the situation can fully assure at this moment, though, is that the Porcupine faithful will throng the Baba Yara Stadium in their numbers, ready to attack Sharks in whatever allowed psychological manner to give the Warriors an edge.
Walk in the park for Kotoko in Kumasi
By what Sharks exhibited on Saturday, the return fixture should be a stroll for Kotoko. Even at home, the Kenyans showed no quality, purpose or intent. Coming to the fortress that Baba Yara is known to be, and the kind of special atmosphere anticipated, Sharks' trip doesn't look good. With the crowd behind them, Kotoko are known to display some of their best brands of football, although there have been occasional unwanted surprises. The prediction is that it would be a terribly long 90 minutes for Sharks on Saturday.