Cameroon v Ghana
Broos sheds light on bonus controversy ahead of Ghana showdown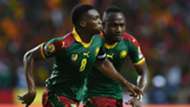 Cameroon coach Hugo Broos says his outfit's recent protest over bonuses will not affect their performance when they face Ghana at the Africa Cup of Nations on Thursday.
The Indomitable Lions play the Black Stars at Stade de Franceville in a semi-final fixture in what will be a re-match of their clash in 2008.
The side have, however, seen their preparations distracted by clamours for bonus increase, the team having resultantly missed a day of training, according to reports.
"I don't think we are asking for the world, but what they give us now is not good, really," Broos said, as reported by the BBC.
"We have trained every day. I read in the papers that the players did not train, but I had given them a free day, so it is not because they are not happy with the money.
"And even though we are not happy, we still have good performances on the field. 
"This is very important. It shows that the players are not here for the money, they are here to play for their country, for the supporters and for themselves.
"But afterwards, you can be given a present if you win a game or get to the next stage. We don't come here for money. But if they give you money, you have to feel the amount is respectful."
Cameroon beat Senegal on penalties to reach the semi-finals.
"You can be sure that you will see a team that is motivated to beat Ghana," Broos added.
"It is not only since Tuesday that we have not been happy with the bonus, it is since the beginning of the tournament. And you have never seen on the field that the players are not happy.
"This team is not playing for money. I see them every day in training, when they are eating and when they are together, they are not talking about money.
"If we lose it will not be because the money is not good, it will be because Ghana was stronger than us."
The Indomitable Lions are seeking to claim their fifth continental title.