Kaizer Chiefs
Bobby Motaung: Fame not a concern for Kaizer Chiefs youngsters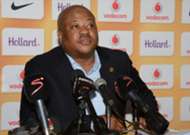 Kaizer Chiefs football manager Bobby Motaung is not concerned that their starlets Wiseman Meyiwa and Siyabonga Ngezana will allow fame to get the better of them now that they're playing professional football. 
The two teenagers were promoted to the first team a few months ago, and despite their lack of experience at the highest level, they appear to have settled in well at Amakhosi.
Motaung lauded the club's youth structures for developing these youngsters, and he's pleased to see them making waves in the elite league.  
"That one is a simple. We have an academy and we invest a lot of money in our academy. We are happy to see the youngsters graduating into the first team. We have top qualified coaches in our development and the coach who believes in youngsters," Motaung told Independent Media.  
According to the Amakhosi boss, these young players were taught about life skills at the academy, and he feels they understand the culture of the club, especially because they previously worked with qualified coaches who understand the club very well. 
"We have no secret. These boys have been taught about life skills at the academy. We are not worried about how they will handle fame. They understand the culture of the team very well," Motaung continued.
Motaung also weighed in on their search for a quality striker, saying he will not disclose the names of the players they're targetting, before adding that reinforcing the striking department remains top of their priority list.
Recently, Chiefs have been linked with a number of strikers, including Leonardo Castro of Mamelodi Sundowns and Dynamos marksman Christian Ntouba among others. 
"I don't want to mention names but we are looking for a striker. At the moment that's the only department we are looking to beef up. For now, I can say it is work in progress. The technical team will advice if they want to beef up other departments," added Motaung.