United States
Bill Hamid overcomes injuries to regain place as top USMNT goalkeeper prospect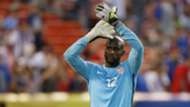 CLEVELAND — Bill Hamid's first U.S. national team start in an official competition wasn't an easy job. Not just because of assignment, but also because of the emotional undercurrent associated with his latest career milestone.
Sure, the opponent, Nicaragua, wasn't a powerhouse, but the U.S. needed a three-goal win to ensure first place in its World Cup group. Hamid needed to post a shutout to keep his team in range of the scoreline it needed to secure an easier path in the Gold Cup knockout rounds.
Hamid did his part, making two tough saves and commanding his penalty area confidently. His teammates did the rest, with Matt Miazga's 88th-minute header sealing the 3-0 victory and first-place finish in Group B.
The late drama capped what turned into a nerve-wracking night for the U.S., especially after a pair of U.S. players missed penalty kicks, but the Americans delivered in what wound up being a pressure-packed match.
"It made it exciting," Hamid told Goal. "It was an interesting prospect because there was a little screen in the locker room that showed us the score of the previous game so we kept up with what was going on. The pregame team talk was based around winning and winning big, and thank God we did."
The match carried added significance for Hamid, because it cap-tied him to the U.S. That might be a surprising footnote considering how long Hamid has been on the radar as a U.S. national team prospect, but it also illustrates the long and trying road he traveled to reach Saturday
"It means everything to me to play for the country that I was born in," said Hamid, fighting back emotions as he pondered what the moment meant to him. "It means everything to me to represent a team that has had so many amazing goalkeepers throughout the history of the U.S. men's national team."
"For me, the objective that we had going into this game, we accomplished it," he continued. "A clean sheet was number one on that objective. This really means everything to me."
To understand why the normally brash and confident Hamid would get choked up after Saturday's win, you have to remember the fact that he has had injuries derail his national team pursuit on multiple occasions. He has had knee surgery three times in the past two years to repair meniscus injuries in his right knee.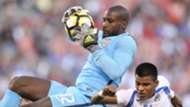 Those setbacks kept Hamid out of the national team picture for the better part of two years, keeping him from taking part in World Cup qualifiers and the 2016 Copa America, and also costing him a chance to bolster his case as the heir apparent in the U.S. goal after Tim Howard and Brad Guzan are no longer the top options.
That stretch of injuries might have tested Hamid's resolve, but never shook his confidence, and his ability to rebound this year and regain his top form is a testament to his mental strength.
"It was made easier by people around me that care about me a lot," Hamid said of overcoming his recent injuries. "Ben Olsen, Zack Thornton and Dave Kasper. They've shown that they care about me a lot and they're willing to help me and be there for me. I'm grateful for that. I'm grateful for having people that care about me and know that I have the ability. Their trust in me helped me along the way, through the injuries, and thankfully I kept pushing. Now I'm healthy, and I feel good."
Hamid's impressive showing Saturday has him once again looking like a leading candidate to be third on Bruce Arena's goalkeeper depth chart. With Tim Howard and Jesse Gonzalez joining the U.S. Gold Cup squad, and Brad Guzan and Sean Johnson departing, Hamid enters the knockout rounds as the number two behind his childhood idol Howard.
Inexperienced U.S. delivers big win
While Hamid wouldn't confirm it, sources tell Goal that Hamid's lengthy absence from the national team prior to the Gold Cup had led him to at least consider the possibility of playing for African nation Sierra Leone, where his parents are from.
It is unclear just how close Hamid came to considering playing for Sierra Leone, but seeing his joy after Saturday's win, and his emotions when discussing his U.S. national team dream, it is clear how much playing for the U.S. means to him.
"I've been patiently waiting for the opportunity," Hamid told Goal. "It's been years that I haven't had the opportunity. Obviously there was another country interested in me, but I know where my heart is."