PSL
Bidvest Wits' Gabadinho Mhango issues apology after suspension with Morton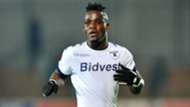 The drawn out 'spitting saga' between Gabadinho Mhango and Michael Morton has been finally put to bed after the Premier Soccer League (PSL) completed their sentencing.
In a PSL clash between Bidvest Wits and AmaZulu earlier in the season, Usuthu's Morton was given his marching orders after he reacted angrily to being spat at by Wits' Mhango. But while Morton's forceful response was deemed worthy of a red card, Mhango's unsporting behaviour went unpunished.
However, earlier this month the PSL confirmed that the duo had both been charged for misconduct and would appear in front of the PSL's disciplinary committee, and it has now been revealed that both Morton and Mhango have been handed suspensions.
Following Wits' victory in the Telkom Knockout Cup against Free State Stars where Mhango did not feature, the Students coach Gavin Hunt confirmed that Mhango had been handed a six game suspension.
"He has been handed a 6 match ban. We are not surprised. It is according to Fifa Rules. It is always a blow to lose any player and it is the case with Mhango but we have to find solutions," Hunt was quoted by IOL as saying.
Meanwhile, despite already severing a three-match suspension for his red card, Morton has been ordered to sit out an additional two games, which started with the weekend's clash against Kaizer Chiefs.
"Michael (Morton) got a two extra match suspension. As to the reasons why he has been suspended I don't know. The charge has something to do with assault. He missed out because of that suspension and will miss out against Baroka FC," AmaZulu coach Cavin Johnson explained.  
Nevertheless, following the PSL's judgement, the Malawi international has broken his silence as he took to social media, issuing a heartfelt apology.
"At the end of last month, I was involved in an incident that should not have happened in the beautiful game of football. I offended Michael Morton and AmaZulu FC. I also disrespected my club, and above all, I disrespected the beautiful game of football. To all, I apologise unequivocally," a statement on Mhango's Twitter account read.
"This spitting incident should not have happened. Because of disciplinary action pending against me by both my club and the PSL, I was advised not to make any statements until such time as these processes were concluded.
"I have taken full responsibility for my actions in both disciplinary processes and now that they have been concluded, I can finally speak publicly about it.
"I have also met with Michael Morton, spoken to him about the incident and offered my heartfelt apologies to him and for provoking his reaction.
"I apologise to all that I have offended with my actions, and I pray and hope that you will all understand that whilst I was wrong, I am only human, and that you can all forgive me for my actions," he concluded.