PSL
Bernard Molekwa to continue as Polokwane City head coach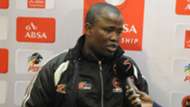 Polokwane City ended their 2016/2017 Premier Soccer League campaign on a high, finishing in sixth place on the log.
Despite Rise and Shine's impressive showing during the campaign, they had to contend with a period of uncertainty when Belgian tactician Luc Eymael walked out on the club and Bernard Molekwa was roped in as caretaker coach.
Although, Eymael would be forced to return to Polokwane after he was found guilty of breaching his contract, Molekwa continued to occupy the hot seat and did well during his stint.
With Eymael having successfully negotiated his release with the club this time around, City has given Molekwa an opportunity to prove his worth.  
City's Chief Operating Officer Tincy Tema, has confirmed that they have opted against finding a new coach and will subsequently retain Molekwa.
"For now we are settled with Bernard. He is our coach and we are happy with what he has done'" Tema told TimesLIVE.
"When he took over from Luc' he did a wonderful job and we feel we need to give him the opportunity to prove himself at the top. Remember' he has been with the club for a very long time. He knows the culture of the team and the players'" Tema concluded.